Zone lab's Zonealarm software is probably the most popular of the free software firewall applications, and for good reason. It offers excellent basic firewall capabilities, plus the vital ability to monitor and block outgoing traffic as well as incoming data. This offers users the ability to see which application are calling out to the Internet on a regular basis (you may be surprised) and detect malicious software like Trojan horse viruses and spyware that may have been installed without their knowledge.
You can download Zonealarm at www.Zonealarm.com. Once you have the install file, install and run the program to activate the firewall.
Be sure to select 'Zonealarm' and not its paid sister product 'Zonealarm Pro' during the install process, unless you want to pay for the extra features that the latter offers.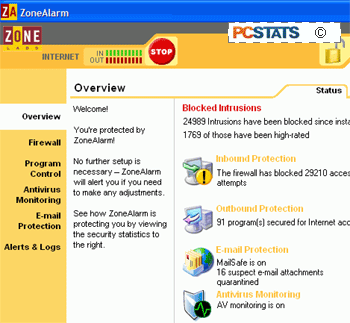 The install process will now ask for permission to set Internet Explorer as a 'trusted' program so that you can use it to access the Internet immediately. To simplify things, answer 'yes' to the 'configure Internet access to allow web surfing' question, then restart your system when prompted.
It's a good idea to go through the program guide that you are presented with when your computer restarts, as this will give you a basic grounding in how the program works. Otherwise, your computer is now adequately protected. We will get to a discussion of Zonealarm's other options a little later in this guide.
Zonealarm's implementation differs from the XP firewall in the way it handles how programs are allowed to send and receive data. Zone Lab's product keeps a database of the programs installed on your computer, and when one attempts to access the Internet, or attempts to set itself up as a server process so that other computers can access it from the Internet, the firewall halts the attempt and pops up a message box informing you of the program and its intentions.
At this point you can grant the program permanent or temporary permission to use the Internet, or deny it completely. This type of program-based control is completely absent in the Windows XP firewall and in most low end hardware firewalls such as the ones found in home Internet sharing devices, and is the main reason why Zonealarm is so appealing as a home security choice.