Abstract: Firewalls are a necessity, but configuring them so that every internet-based program still works is often troublesome. With this guide, you can have your Firewall, and MSN File Transfers too.

Home > Reviews > Beginners Guides > PCSTATS
Allowing applications through a Windows XP firewall
To enable certain applications to bypass a firewall, you need to open specific ports for their use. With the pre-service Pack 2 Windows XP firewall, you do this by creating a custom 'Service.' Go to 'start/control panel/network and Internet connections/network connections' then right click on your Internet connection (which should be at the top of the page) and select 'properties.'
Go to the 'advanced' tab and select the 'settings' button at the bottom of the window. From the 'services' tab, click 'add…' to create a new service.
For this example, we will create a service to allow MSN Messenger file transfers, which are normally blocked by the XP firewall.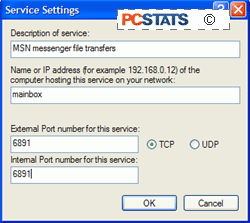 First enter something appropriate for the name of the service, in this case 'MSN messenger file transfer.' This name is for your reference only. MSN file transfer uses the TCP protocol for data transfer, as do most applications, so ensure that TCP is selected.
Now you need to enter the port number that should be opened in the firewall to allow this application to transfer data. From a little research on the Microsoft website, we find that MSN messenger file transfer uses TCP ports 6891-6900 for transferring data, one port is used for each simultaneous transfer. Let's just open one port for now. Enter the number '6891' in both the external port number and internal port number boxes. Hit 'ok.'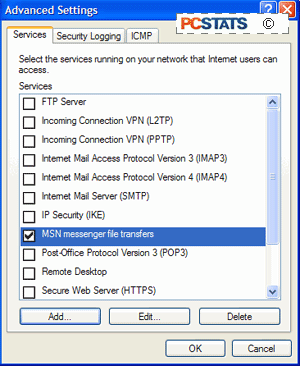 Note that the new service is added to the list and enabled. File transfers should now work in MSN messenger.
Services can be added and enabled in the same way with the Service Pack 2 XP firewall, but the location of the controls is different. Go to 'start\control panel\windows firewall' then choose the 'advanced' tab, highlight your Internet connection and click 'settings.'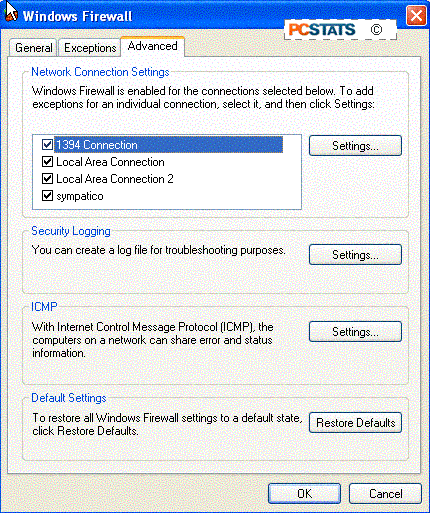 Any services you created prior to upgrading XP to Service Pack 2 should still be here.
< Previous Page
© 2022 PCSTATS.com

Please respect the time and effort that went into creating each PCSTATS Beginners Guide, do not illegally copy. Thank you.

Next Page >