This is an easy one, because it's the exact same procedure as we listed above for applications such as MSN Messenger file transfer.
What we need to do is create a new service by going to 'start/control panel/network and Internet connections/network connections' then right clicking on your Internet connection (which should be at the top of the page) and selecting 'properties.' Go to the 'advanced' tab and select the 'settings' button at the bottom of the window. From the 'services' tab, click 'add...' to create a new service.
The same procedure applies to the Service Pack 2 upgraded XP firewall, though you need to go to 'start\control panel\windows firewall\advanced' then highlight your internet connection and choose 'settings' to get to the services window.
Next, name the service for your own convenience, and enter the data type and port that the site or game you are hosting will use to communicate. If you were hosting a website on your system, for example, you would generally use TCP port 80, since it is the standard port for HTTP. Note that for common services like HTTP (websites) and FTP, a setting should already exist on the services screen, so you will not have to create them, just check them to open the appropriate port.
Following is a list of common port numbers for hosted applications.

Hosted Application Port Numbers
| | |
| --- | --- |
| websites ( https: ) | port 80 tcp for file https: // |
| ftp sites ( ftp: ) | port 21 tcp/udp |
| telnet ( telnet: ) | port 23 tcp/udp |
| encrypted http ( https: ) | port 440 tcp/udp |
hosting with zonealarm
hosting a service with zonealarm is also a very simple procedure, generally speaking, since all you have to do is grant permission for your site or program to act as a server. this can be accomplished through the 'program control/programs' tab in the interface, in the same way as we did above for Internet applications.
To do this: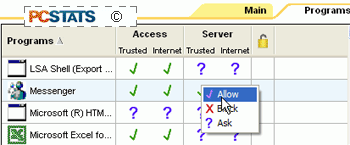 Open Zonealarm and go to the 'program control' panel, then click the 'programs' tab.
Scroll down the list of programs until you find the application you wish to host. See picture at right for a list of common apps as they would appear in Zonealarm. Left click on the question mark in the 'server/internet' section of your application's row.
Change the setting to 'allow.' Users should now be able to access your game or website from the Internet.
Virtual servers - Hosting with an Internet sharing device
Since almost all home routers use NAT (Network Address Translation) to share one internet connection among many systems, simply opening up ports in the firewall is not enough to allow the hosting of games and websites through one of these devices.