A Quick Guide for Eliminating Spyware and Hijacker Software V2.1
---

(UPDATES: External software links on 2019/10/24.)


It's difficult to overestimate how big an issue parasite software (otherwise known as adware, spyware, malware, etc.) has become on the Internet. An unprotected computer used by a novice runs the risk of being infected mere minutes after a broadband connection to the Internet is formed. Sources of these pests include malicious web sites and email, software smuggled into your system alongside other 'free' programs and Trojan viruses opening portals to the Internet from within your PC.

The term 'Spyware' can be broken down into several component types of parasitic software. These are programs that track your surfing habits and relay them to advertising companies, tailor clusters of pop-up ads to suit your web wanderings, even take over your web browser entirely. A spyware infestation can make using your PC on the Internet an exercise in frustration.

Fortunately, it is possible to keep a clean system with a few effective and simple precautions. But if you are going to do it, do it soon, because chances are you have already played host to one or more of these pests.

This is a quick and concise guide to removing spyware and adware from your system, and preventing future infections. This is a problem we've tackled may times at PCstats, so we will list all the necessary software tools and procedures a step at a time. If you are a novice user or you would like some additional information about spyware and adware, and the things it can do to your system, see our comprehensive Beginner's Guide on the subject.

Detecting and Removing Spyware

In the first section of this Quick Guide to removing spyware, we'll look at how to deal with an infestation in your PC. Even if you don't think your PC has a problem with spyware, run through the first couple of steps (downloading tools and using Ad-Aware and Spybot) to make sure. If you get a clean bill of health, proceed to the second section of this article - prevention.

Step 1: The Toolkit

When it comes to detecting and eliminating spyware from your computer system, the two essential free tools that you need to start with are Ad-aware and Spybot S&D. Both of these programs function in a similar manner to anti-virus software, in that they scan for and remove a wide variety of intrusive or dangerous spyware, adware and browser hijacking problems.

While both programs function in a similar way, they have differences which complement each other, so it's recommended you install both.

As a complement to the above two programs, download CWShredder, Autoruns and Hijack This!

Step 2: Run Ad-Aware/Spybot S&D

Update and run both of these excellent programs to thoroughly scan your system for spyware, adware, browser hijackers and other pests. Make sure that you update both programs via their built-in update functions before you scan; otherwise you will not be using the latest spyware definition files and may miss things.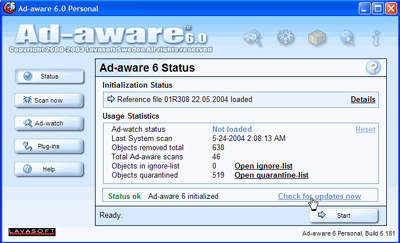 If either of these programs discover something suspicious on your system (which they likely will), here's how to deal with it: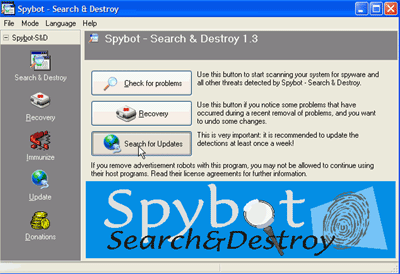 In Ad-Aware, delete any suspicious item except 'tracking cookies.' These can be deleted if you'd like, but cause no particular harm.
In Spybot, delete everything. That was easy.
Spybot's 'immunize' function can be helpful in preventing further infections, though it may cause issues with certain websites.