Beginners Guides: Windows XP Safe Mode Explained
---
Hit F8 to boot your PC in to Safe Mode, and from there..... what? Safe Mode is a powerful tool for fixing problems in Windows, and finally PCstats explains how to actually use it! - Version 1.0.0
Like a lot of the people in the computer hardware journalism business, many of us here at PCStats got our start working tech at a computer store. Now if you've ever done technical support, you know the inherent difficulty of trying to troubleshoot a problem over the phone, especially when the customer is a computer novice. A lot of our work on the various Beginner's Guides can be directly attributed to our desire to make everyone's life easier by providing basic computer know-how in an easy to access form both here, and in the PCstats Newsletter.
Recently I was reminiscing about those years in tech support (while supposedly brainstorming for new guide topics to write about) and it hit me; the question that was responsible for the most blank stares from family, friends and customers seeking help…
"Did you try booting in Safe Mode?"
This is an essential first question if someone has called saying that their new PC is not booting properly, as it lets a technician determine roughly whether there's a problem with the hardware or a problem with software that's been installed since the PC left the store.
Unfortunately, in our experience many users have little more than a vague awareness of the existence of 'safe-mode' in Windows, and no idea how to get into it or why they would want to. Good topic for a guide, we thought.
In this article, PCstats will explain how Windows XP's various 'Safe Modes' work, how you access them and how they can help you troubleshoot various software and operating system issues. Now, isn't this a handy topic!?
What is safe mode?
Safe Mode has been a component of the Windows operating system since the days of Windows 95. The basic idea is to allow the user (or technical support worker) access to the windows interface without loading any unnecessary drivers or software.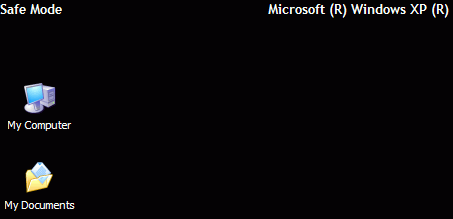 The thinking is that if device drivers or auto loading software (broswer hijackers for example) are causing problems with your Windows installation, the easiest way to fix things is to load a version of Windows that bypasses all but the most basic drivers and will not run any additional software. Windows XP safe mode provides you with a basic graphics driver (enough to display the user interface), access to your drives and windows configuration, and very little else.