The offline files method of file synchronization is much more flexible than the briefcase application, mainly because it can be used over the network. It is an extension of the Windows network file-sharing system, and requires that all files that are to be available offline, be placed in a network share.
A good example of how offline files could be used would be: An office has a document server where all documents important to the company are stored. Employees can access the documents over the network from their own computers, via file shares or network drives. Since most employees use laptops and often work at home, updating the files each person has changed while at home can be a real pain for both the employees and sysadmin.
Often the employees forget to update their documents on the server with the changes they made at home, leading to multiple copies of the same document floating around.
In this situation, enabling offline files would allow the employees with laptops to always have editable copies of their documents. When they edit them at home and return to the office, their laptops will update the documents on the server automatically, preserving all changes and ensuring that there is only ever a single version of each document.
Preparing for file synchronization
The first step in the process is to enable offline files on all systems you will be using. To do this:
Open 'my computer' and go to 'tools\folder options.' Now click the 'offline files' tab.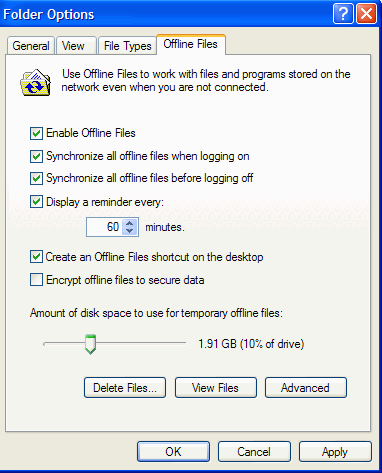 Ensure that the 'enable offline files' option is selected. Note that if "fast user switching" is currently active, you will not be able to do this and will get a message to that effect. To disable fast user switching, go to 'start \ control panel \ user accounts \ change the way users log on or off' then disable the fast user switching checkbox.
Now we need to share any folders you want to synchronize over the network. Data must be shared (meaning available to other computers on the network) before it can be synchronized.