On the system which holds the original copies of the files and folders you want to make available offline: Navigate to the folder in Windows explorer. Right click the folder you want to share and choose 'sharing and security.'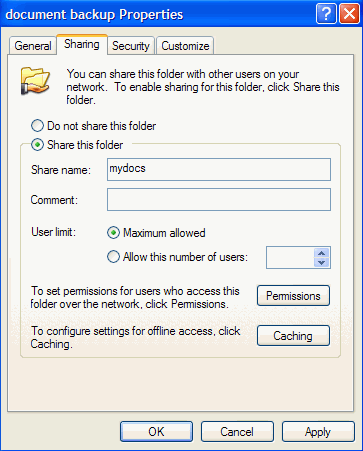 Choose the 'share this folder on the network' option and assign the share a simple one-word name. This name is what other computers will see and use when trying to access the folder. If it is present, check the 'allow network users to change my files' option also.
Selecting files to synchronize
Now we need to identify the folders and files that we want to have available offline.
From the computer that does not have a copy of the documents or folders you want synchronized, go to 'my computer' then click 'my network places.'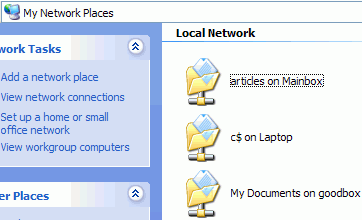 From here, select and open the file share that you wish to have available to you offline.

If the shared folder does not appear here, you will first have to connect to it. Go to 'start\run' and type '\\(computername)\(sharename) where 'computername' is the name of the system that the files are on and 'sharename' is the name of the share. If you are having problems connecting, ensure that any personal firewall software (including the Windows XP firewall if you have installed Service Pack 2 ) on either system is disabled.