Memory Test Methodology and Overclock Results
PCstats tests DDR memory on two major CPU platforms - the AMD Athlon64 and the Intel Pentium 4 - because RAM behaves differently with each processor architecture. For instance, Intel users tend to run their memory at high speeds with high latency settings, and in general that works quite well for Intel-based computers. It would be detrimental to system performance if you were to run the same DDR memory settings on an AMD Athlon64 system, since latency plays a much larger role in system performance.
Because much of our audience is made up of enthusiasts, PCstats also runs overclocking tests so you can get an idea on how far the memory will go.
On both Intel and AMD test PCs, we're only interested in seeing how high we can go with the memory running 1:1, as running with other dividers puts the overclocking bottleneck elsewhere, and not with the system memory. On the Pentium 4 test system we sometimes use higher latencies in our tests, as latencies are not as important. With the AMD Athlon64 test system, the DDR RAM latency must run at 2-2-2-5, or the memory's tightest possible timings, as quick access is more important to the CPU design.
So how did this Mushkin memory overclock?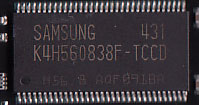 Plugging the memory into our Athlon64 test system we first lowered the CPU multiplier to 8x, and began to raise the motherboard clock speed. At 213 MHz we ran into some stability problems, but that was fixed by rasing the memory voltage to 2.7V. Continuing to 221 MHz, we had to increase the voltage to 2.8V.

In the end the memory was able to do a respectable 226 MHz with 2.8V, while maintaining 2-2-2-5 timings. Loosening those timings to 2.5-3-3-6 allowed us to push the motherboard to 232 MHz. Performance was not quite as good due to the higher timings, this meant that programs had to wait a few cycles longer to fetch and receive data.

On the Intel rig, we started at 200 MHz FSB and pushed the memory slowly. The memory was able to go all the way up to 223 MHz before things started to flake out, but increasing the memory volts to 2.8V solved that. As we continued onward the memory seemed to hit the wall at 237 MHz FSB with 2.8V. Curious to see how high the memory would go with more extreme voltages, I set the memory voltage to 3.3V... With the memory running at 50+ degrees Celsius, we were able to hit 255 MHz with memory timings of 2-2-2-5! Very impressive, and I'm happy to see that the extra voltage doesn't go to waste!

Of course for testing, we benchmarked at 237 MHz FSB since most motherboards max out at 2.8V in terms of voltage options.