Mushkin PC3200 LII V2 Memory Review
---
Mushkin is one of those names that almost every enthusiast will recognize, after all they've been manufacturing memory since 1994 and produce some of the fastest memory on the market. Like Crucial, Mushkin sells direct to the public, and with a 9.71 lifetime reseller rating you know they're doing something right.
While Mushkin does not produce their own PCB's or DRAM modules, they do assemble everything in house and hand test their best on a variety of platforms just like the average overclocker. nForce2, KT600, i865/i875P you name it, Mushkin tests all platforms and with pretty much every brand on the market for compatibility purposes. Come to think of it, I can't remember reading about any compatibility problems with Mushkin memory on the various computer forums on the web.
Here's a little snippet of information for those hardcore overclockers out there. When speaking with a Mushkin rep, he happened to mention that Mushkin does not place voltage limiters on their memory! If you want to push 3V+ through your memory, go right ahead, they're not going to stop you although it does void your warranty. ;-)

Mushkin PC3200 LII V2
Today PCstats will be checking out a couple of Mushkin's new low latency PC3200 Level II version 2 memory modules. Each stick of DDR RAM is 512MB in size (for total of 1GB), and operates at 200 MHz with timings of 2-2-2-5 at 2.6V. Both modules are protected by sleek black heatspreaders which should keep the modules safe from physical damage.
Mushkin ships their memory in the most unique way, they place the memory modules inside a plastic air pocket. After bouncing the bubble around like a basketball for a few minutes, I'm positive it safeguards the memory just as well as your average foam and box.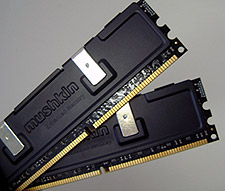 Under the Armor
Mushkin equips its memory with black Neng Tyi aluminum heatspreaders. They are good for protecting the memory from physical damage.
PCstats removed the heatspreader on the Mushkin PC3200 LII V2 for a closer look at the DRAM. Below, we found that the PC3200 LII V2 is using Samsung K4H560838F-TCCD DRAM.
These are the same DRAM modules that Corsair use on its 3200XL line. It doesn't seem to scale quite as well as Winbond BH-5 DRAM with tight timings, but loosening things up does allow these Samsung chips to hit fairly decent speeds with modest voltage increases.