Here at PCstats we test DDR2 memory only on an Intel Pentium 4 platform since DDR2 has not yet been introduced into the AMD world. While we do test to see how high memory can go with aggressive 3-3-3-9 memory timings and the 3/4 memory divider enabled, we also loosen things up to see how high the memory can go at higher timings. The reason is, Pentium 4 systems do not seem as reliant on latency timings as AMD systems and having a higher clock speed can counteract the negative effect of higher timings.
Because much of our audience is made up of enthusiasts, PCstats also runs overclocking tests so you can get an idea of how far the memory will go.
Yay, overclocking!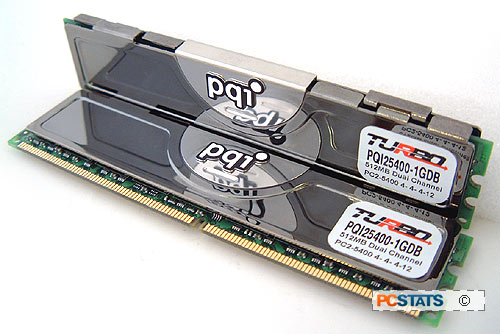 It is always a little exciting to test a new set of memory modules from a manufacturer we haven't worked much with in the past, as you never know what to expect!
Starting at 200 MHz FSB, we kept the 2.66x memory multiplier enabled and the first thing I tried was to run the memory timings more aggressively at 3-3-3-9. Unfortunately, that was met by various blue screens during boot up, and even raising the memory voltage to 2.1V didn't help. Looks like the PQI Turbo PQI25400-1GDB DDR-2 does not like operating with aggressive timings at any speed.
Moving to overclocking with default voltage, things were pretty uneventful at the beginning. In fact we were easily able to pass the old 216 MHz mark the test system usually chokes on, although this is probably more attributed to a new BIOS than better memory. Continuing up we seemed to have a few problems once we reached 226 MHz, but raising the CPU voltage to 1.4V solved all that. At 232 MHz FSB the CPU again started to flake out, but increasing the CPU core voltage to 1.5V fixed everything.
In the end we were able to hit a nice speed of 247 MHz FSB. With the 2.66x memory multiplier enabled, that equals 330 MHz, or 660 MHz overall. We were not able to hit the default speed of the memory, but I think it was the motherboard maxing out too quickly rather than the memory.

PCStats Test System Specs:
processor:

intel pentium 4 540

clock speed:

16 x 200 mhz = 3.2 ghz
16 x 247 mhz = 3.95 ghz

motherboards:

gigabyte ga-8anxp-d (i925x)

videocard:

msi rx800xt-vtd256e

memory:

2x 512mb crucial ballistix pc5300
2x 512mb mushkin pc4200
2x 512mb pqi turbo pqi25400-1gdb

hard drive:
40gb western digital special ed
cdrom:
msi x48 dvd/cd-rw combo drive
powersupply:
vantec 400b ion
software setup

windowsxp build 2600
intel inf 6.00.1045
catalyst 4.9

workstation benchmarks

business winstone 2004
sisoft sandra 2004
pcmark2002
pcmark04
3dmark2001se
ut2003
ut2004