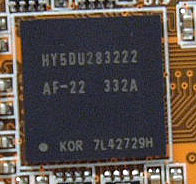 As you'll soon see, at stock speeds the Asus eXtreme EAX600XT videocard does deliver decent frame rates. Of course, that's not good enough for us, so a little overclocking in due. ;-)
As usual, we began with the core at 500 MHz by default, and raised its speed a few MHz at a time. With good cooling on the Radeon VPU, we easily passed the 550 MHz mark, and blew past 560, 570 and 580 MHz as well. Continuing the adventure, passing 600 MHz core speed was also a breeze. The Asus EAX600XT seemed to hit a wall after passing 610 MHz; sometimes the card would run, sometimes it wouldn't.
As to what was holding it back I'm not sure of. The core was not artifacting, or giving us any problems before that point. Still, a 110 MHz core overclock is nothing to scoff at, and as you'll see it does boost performance nicely in the benchmarks to follow.
Asus equip the eXtreme EAX600XT with 2.2ns Hynix BGA DDR DRAM (370 MHz default speed), so we had high hopes in terms of overclocking the memory equally as well. Going up in 2-3 MHz intervals, we easily broke the 400 MHz plateau and everything was looking good. Unfortunately, the card ran into weird problems at 421 MHz, where the system would lock up when running 3DMark test. Heat from the memory DRAM on the rear of the card did not appear to be a problem...
ATi based videocards typically do not have problems running both core and memory at maximum overclocked speeds, and the Asus eXtreme EAX600XT was no different.

PCStats Test System Specs:
system 1
system 2
processor:

intel pentium 4 540

intel pentium 4 3.0c

clock speed:
16 x 200 mhz = 3.2 ghz
15 x 200 mhz = 3.0 ghz
motherboards:

gigabyte 8anxp-d, i925x

gigabyte 8knxp, i875p

videocard:

gigabyte gv-rx60x128v
gigabyte gv-nx57128d
msi pcx5750-td128
albatron trinity pc5900
asus extreme eax600xt

ati radeon 9800xt
ati radeon 9800 pro
ati radeon 9700 pro
asus radeon 9600xt
msi fx5950 ultra-td128
msi fx5900u-vtd256
msi fx5900xt-vtd128
aopen geforcefx 5900xt

memory:

2x 256mb crucial pc4300 ddr2

2x 256mb corsair twinx 3200ll

hard drive:
40gb wd special ed
40gb wd special ed
cdrom:
msi x48 cd-rw/dvd-rom
nec 52x cd-rom
powersupply:
vantec stealth 470w
vantec stealth 470w
software setup

windowsxp build 2600
intel inf 5.02.1012
forceware 60.85

windowsxp build 2600
intel inf 5.02.1012
catalyst 3.9
detonator 53.03

benchmarks

3dmark2001se
codecreatures
aquamark
aquamark3
gun metal 2
x2 the threat
ut2003

aa test, af and aa+af test
3dmark2001se
x2 the threat
ut2003
the agp and pci-e systems are different, but the results are included for reference.