Asus eXtreme EAX600XT Videocard Review
---
When it comes to videocards, a souped-up deluxe version that caters towards enthusiasts is usually the best bet. This is all well and good, but sometimes just a few extra features are all we really need. Overclocking is nice, but with a videocard forming the basis of a home theatre system, overclocking isn't a very important consideration. With that in mind, PCstats will be putting the Asus eXtreme EAX600XT videocard through its paces today. The card is based on the ATI Radeon X600XT graphics processor, which allows it to bridge the gap between PC and home entertainment with a little thing we like to call 'HDTV.'
Component-out (Y, Pb, Pr) is a cool feature whose time as come. Before this technology was available from a videocard, users relied upon TV-output. Seeing as a composite or s-video connection has never really produced a very crisp image on TV screens, a lot of home theatre enthusiasts have been eagerly looking forward to HDTV component output. Of course, there's more to this PCI Express videocard than an HDTV cables; the Asus eXtreme EAX600XT can also handle full VIVO (Video In/Video Out) which is great for anyone who wants to stream video into their PC, do record movies into digital form. The Asus eXtreme EAX600XT retails for about $215USD through online stores, so it is pretty affordable too.

Asus eXtreme EAX600XT




Includes:

Quick Installation Guide, Driver CD, Manual CD, Deus Ex: Invisible War, Asus DVD, Media @ Show, PowerDirector, Ulead Cool 3D, Component Out Cable, VIVO Break Out Box, DVI to analog converter
The layout of the Asus EAX600XT is very similar to that of several other X600XT videocards to cross PCstats test bench, but differs with the addition of the special black HDTV connector where an analog monitor cable would typically go. This connector hooks up to 6' long component cable that will reach to near-by HDTV compatible displays.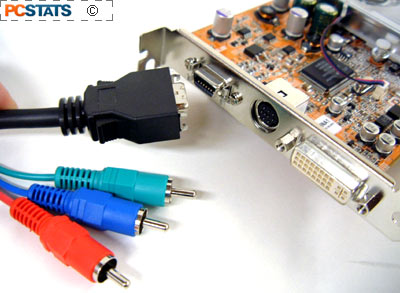 The Asus EAX600XT utilizes a one piece cooling solution on the front of the card which cools both the Radeon X600XT core and memory. There is no cooling solution for the memory on the back of the PCB however.
The fan lights up in a nice shade of blue once the system is turned on, and also manages to create quite a bit of noise! In fact, you'll probably hear a low pitch hum even after you've installed this videocard into a case, though it fades into the background noise quickly.
In addition to the component output cables, it's good to see Asus include everything users will needed to take advantage of the multimedia features of the eXtreme EAX600XT graphics card. The component video cable is 2m (6') in length which should be good enough for you to hide the PC away. A standard purple ATi break out box is great for those who want to hook this videocard up to a standard TV, or do a bit of video editing.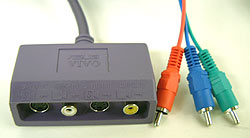 The Difference Between HDTV and S-Video
These days it's pretty standard for a videocard to support TV-Output. With ATI's new support of the HDTV standard, we're now starting to see videocards based on the Radeon emerge with component output (y, Pb, Pr) instead of just the usually accompaniment of s-video and composite (RCA) cables.
For comparisons sake we're going to show you the difference between traditional S-Video output of a computer desktop to a TV screen, and the higher quality component output. We're not going to go into all the detail of why component output is better, or what is supposed to be happening with HDTV, as that is beyond the scope of this review. Suffice to say, below are two side by side screen captures which illustrate the potential of component output to an HDTV capable screen in place of the old videocard s-video output.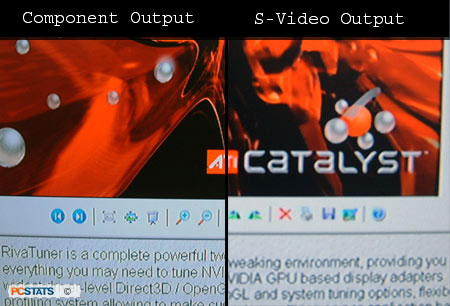 On the left is component (Y, Pb, Pr) output, on the right is S-Video. As you can clearly see the text and even image (look at the ATi logo) is much sharper and crisper because of the the use of the component output feature. Component is clearer, and the s-video equivalent is noticeably blurred.