Corsair TwinX1024-4400C25PT Memory Review
---
Corsair recently celebrated its 10th anniversary, which is quite a milestone for a memory manufacturer. In this corporate schmooze-fest-with-consumers-world, customer support goes a long way, and it is probably for this reason that Corsair runs its own support forums. Instead of consulting a FAQ or dialing 1-800-your-call-is-important-to-us-please-hold, the "RAM GUY" is there to dish out the info and advice on using the companies products.Imagine if Microsoft had their own support forums for everyone who ever suffered the rath of a "BSOD"?! Anyway getting back onto the topic, this PCstats review is on a pair of Corsair TwinX1024-4400C25PT dual channel DDR memory. So, let's begin.
These two TwinX1024-4400C25PT Platinum Edition DDR modules are 512MB in size, and run at 550MHz. This memory isn't as fancy as the LED-illuminated TwinX1024-4000PRO models PCstats burned in recently, but they are faster. ;)
As you can see Corsair use standard aluminum heatspreaders to help keep the memory cool. The heatspreaders do lower the overall operating temperatures of memory modules a wee bit, but they do little to nothing to enhance overclockability. Still, memory heatspreaders protect the DIMM's from physical damage; I don't know about you, but I've knocked those tiny resistors off a few sticks of memory in my time.

Corsair TwinX1024-4400C25PT DDR
Each double sided DIMM of DDR has sixteen 256MB DRAMs which give you a total of 512MB of RAM on each stick. Officially the TwinX1024-4400C25PT is designed to run mainly on Intel systems (Corsair states in their documentation that top speed tests were only performed on i875P motherboards) and is rated for dual channel configuration at 275 MHz, with 2.5-4-4-8 memory timings and 2.75V.
Upon removing the heatspreaders we found that the TwinX1024-4400C25PT is equipped with Samsung K4H560838F-TCCD DRAMs. It's the same stuff that Corsair use in its "XL" PC3200 memory, which means at lower speeds the memory should be able to run with tighter timings, good news for AMD systems.
PCSTATS Test Methodology
PCSTATS tests DDR memory on two major CPU platforms - the AMD Athlon64 and the Intel Pentium 4 - because RAM behaves differently with each processor architecture. For instance, Intel users tend to run their memory at high speeds with high latency settings, and in general that works quite well for Intel-based computers. It would be detrimental to system performance if you were to run the same DDR memory settings on an AMD Athlon64 system, since latency plays a much larger role in system performance.
Because much of our audience is made up of enthusiasts, PCSTATS also runs overclocking tests so you can get an idea on how far the memory will go.
On both Intel and AMD test PCs, we're only interested in seeing how high we can go with the memory running 1:1, as running with other dividers puts the overclocking bottleneck elsewhere, and not with the system memory. On the Pentium 4 test system we sometimes use higher latencies in our tests, as latencies are not as important. With the AMD Athlon64 test system, the DDR RAM latency must run at 2-2-2-5, or the memory's tightest possible timings, as quick access is more important to the CPU design. So, let's get started!
Overclocking the memory!
When we installed the Corsair TwinX1024-4400C25PT DIMMs into PCSTATS' Athlon64 test system the first thing we did was change the memory timings from SPD settings of 2.5-4-4-8, to 2-2-2-5. Without much trouble the system booted up just fine and we were able to run through a whole set of benchmarks. Starting at 200 MHz Front Side Bus, the overclocking was increased a little at a time while keeping the most aggressive memory timings.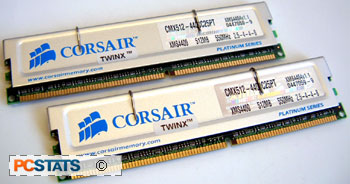 At 211 MHz the system began to exhibit some signs of instability - it would often crash back to desktop while running 3D benchmarks - and we were forced to raise the power to the TwinX1024-4400C25PT to 2.7V. That solved the problems momentarily, and we continued on till another snag arose at 218 MHz. Increasing the voltage to 2.8V fixed that.
In the end, with tight timings we reached a top speed of 227 MHz. Lowering the timings of the TwinX1024-4400C25PT didn't improve our overclocking yields very much. With the memory set to SPD it hit 234 MHz, but I decided to benchmark the system at 227 MHz with aggressive timings since performance at that speed and with those timings is better.
On the Intel test platform PCSTATS also had no problem running the memory at aggressive memory timings, at a FSB of 200 MHz, with 2.6V. We tried to overclock the system further with aggressive timings but ran into a whole host of stability problems at the 233 MHz mark (with 2.8V) so we decided to just use SPD timings. Once the timings were loosened up, the Corsair memory was willing to overclock.
On the Intel system the memory easily reached 275 MHz with 2.5-4-4-8 memory timings, and was even able to overclock past that. In the end it reached a top speed of 282 MHz with just 2.8V. More voltage just caused stability problems to crop up immediately.