PCStats Test System Specs:
| | |
| --- | --- |
| processor: | intel pentium 4 540 |
| clock speed: | 16 x 200 mhz = 3.2 ghz |
| motherboards: | gigabyte ga-8anxp-d, 925x |
| videocard: | msi rx800xt-vtd |
| memory: | 2x 512mb crucial ballistix pc-5300 |
| hard drive: | 40gb wd special ed |
| cdrom: | aopen 8x dvd+/-rw |
| powersupply: | ultra x-connect green uv 500w psu |
*all voltages were read from the motherboard bios.
Listed Voltages
AMP
Lower Voltage
Upper Voltage
Jitter
+3.3V
28A
3.29v
3.33v
0.04v
+5.0V
30A
4.95v
5.01v
0.06v
+12V
34A
11.99v
12.02v
0.03v
-12V
0.8A
11.99
12.00v
0.01v
-5.0V
0.3A
5.00v
5.00v
0.00v
+5.0Vsb
2A
5.00v
5.00v
0.00v
Considering that our Pentium 4 test system draws a lot of power, the Ultra X-Connect Green UV 500W PSU handled the load very well. The 12V rail only dipped to 11.99V, which is inconsequential. It's important that the voltages inside the power supply do not fluctuate very much. If they do then the power supply is delivering bad power to your components.
When looking at the Seasonic Power Supply test results we see two values, wattage and volt-amps. Since it might not be clear what they measure, here's a brief overview.
The volt-amp (VA) value is how much real power is being consumed by the power supply being tested to provide the wattage (W) value. The higher the VA value is, the more electricity is being used by the power supply. Because no electrical device is 100% efficient, there will always be some loss when converting AC to DC. The closer the volt-amps and wattage figures are to each other, the more efficient a power supply is. This is called the Power Factor: wattage / volt-amps = PF.
Since we're testing with a 120W dummy load, the load on the power supply (wattage) should be as close to this figure as possible. Anything above this load in apparent power describes the overhead and wasted energy (given off as heat) for the particular power supply being tested.
For the unloaded tests, the wattage and volt-amp figures should be as close as possible to one another. The lower the figures are, the less power is being used.
Seasonic Load Tests

Power Supply
Wattage
Test
Load
Unloaded
Seasonic SuperTornado
400 W
Active Power
177 W
6 W
Apparent Power
182 VA
7 VA
Vantec iON2

350 W

Active Power

192 W

10 W
Apparent Power
277 VA
21 VA
Antec TruePower 330
330 W
Active Power
195 W
22 W
Apparent Power
289 VA
38 VA
Ultra X-Connect Green UV 500W
500 W
Active Power
193W
22 W
Apparent Power
307 VA
40 VA
As you can see here in the Seasonic Load tests, the Ultra X-Connect Green UV 500W is not very efficient and uses the most electricity of any power supply we've tested recently. What that means is, it costs more in electricity to use the Ultra X-Connect Green UV 500W PSU when compared to the other power supplies in this test. Even when unloaded the Ultra X-Connect Green UV 500W uses the most electricity!
Keep in mind that the Ultra X-Connect Green UV 500W can also deliver more power than the rest of the supplies in this test, so even though it is not the most efficient, it may still be a better choice for your complex rig. Also, it's shiny...
Pretty but...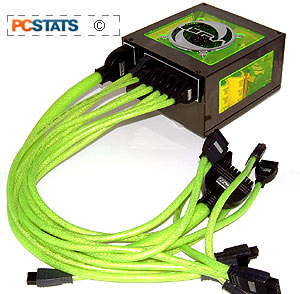 When you buy a cheap power supply, you're putting everything inside your computer at risk. Does it makes sense to save $50 on a PSU to only have it blow up in the future and take the rest of your PC with it? Doesn't seem like such a good deal anymore eh?
Believe it or not, the above can happen and will happen. within my own circle of friends I've seen it three times in the last two years! Of course that's an extreme case but bad power supplies can also manifest many other problems from intermittent crashes to data corruption.
Ask around in any computer forum about power related issues, I'm sure you'll hear some real horror stories.
The Ultra X-Connect Green UV 500W is certainly one of the most cosmetically innovative power supplies to come around in a long time. Its modular design means that you won't have to hide those extra power supply cables behind the motherboard tray or in the 5 1/4" drive bays, you can simply connect what you need!
Under UV light the green plastic windows glow a nice neon green while the cables are cyan in colour. Who says your power supply can't be as pretty as your system? UltraProducts include enough cables and power plugs for most users; there are eight molex, one floppy and two Serial ATA power cables as well as the regular 20 pin ATX, ATX12V and Auxiliary lines.
When the Ultra X-Connect Green UV 500W is hooked up to a system, the rails are rock solid which means system stability shouldn't be an issue. However, this power supply certainly uses a lot of electricity. The Ultra X-Connect Green UV 500W uses the most power (idle and at load) of any power supply we've tested of late and if you pay directly for your electricity, you might notice.
The Ultra X-Connect Green UV 500W is easily the best looking power supply on the market but this beauty has a pretty steep price in terms of the electricity it can use. Retailing for $154 CDN ($125 US), the PSU is priced near the middle of its class, but perhaps its best to look past the bling bling and choose another brand which puts its circuitry first.
Find out about this and many other reviews by joining the Weekly PCstats.com Newsletter today! Catch all of PCstats latest hardware reviews right here.
Related Articles
Here are a few other articles that you might enjoy as well...
1. Antec TruePower 330W Power Supply Review
2. PC Power & Cooling Turbo-Cool 510-PFC Power Supply