Ultra X-Connect Green UV 500W Power Supply Review
---
There's a good reason why we always recommend consumers spend good money on a power supply, and skimp elsewhere, if necessary, when building systems. The danger of a cheap power supply blow up and destroying the rest of the computer is more likely than you might imagine... In particular, the first unit we received for testing proved defective and failed. The second X-Connect 500W PSU worked correctly.
Of course there are more problems related to a poor quality PSU than it simply dying. An inadequate power supply can also manifest a whole host of PC problems that seem to mimic other types of component failures. System instability and crashing is just the tip of the iceberg here folks. A bad PSU can imitate other things like processor, videocard or even system memory failure!
In this review, PCstats will be testing the Ultra X-Connect Green UV PSU. It's not just pretty with its UV reactive panels and fans, it's also the first 'modular' power supply on the market. Each power cable has its own port on the power supply unit, so you only need to connect the cables you need. No more having to stuff extra cables into the 5 1/4" drive bays, or hide them behind the motherboard tray for a neat looking system. Serial ATA power cables are included, which was good to see.

Ultra X-Connect Green UV Power Supply

Includes:

Users Manual, Power Cord, 20 pin ATX Power Cable, ATX 12V Cable, Auxiliary Power Cable, 2x Dual Molex Power Cable, 2x Single Molex Power Cable, Molex Y Serial ATA Power Cable, Dual molex/Floppy drive Power Cable, Mounting Screws
The ratings for the Ultra X-Connect Green UV power supply certainly look quite impressive and should be able to satisfy even the most hardcore of users. According to the label, the +3.3V line can deliver up to 28 amps while the 5V rail can do up to 30 amps.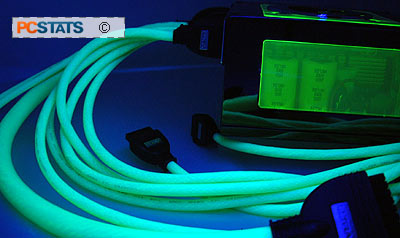 The most important rail, the 12V line, can pump out 34 amps which should be more than enough to satisfy even the most hardcore user. Maximum peak power output of the Ultra X-Connect Green UV 500W PSU is 500W, UltraProducts does not state what the sustained values are.