According to the results of PCstats' survey, the third leading cause of unexpected early PC mortality is... you. To be more specific, there are a large number of potentially fatal mistakes a newcomer to computers (and even a veteran) can make while assembling his or her own system, and judging by the letters we received, you've committed every one of them at some point or another.
While most crucial computer components are keyed to only fit in one way, there are still steps in PC assembly which are absolutely crucial, but not necessarily common knowledge to computer rookies. Steps like using the metal spacers that came with the case when screwing in your motherboard.
"...while putting in the motherboard I forgot to put in the metal spacers. Booted up first time and nothing came up to the screen. Turned off fine. Then tried to boot again after checking connections. This time nothing, and there was a glow coming from within the case, getting brighter and brighter. Look inside, and viola. A little random chip on the mobo is glowing bright orange... Oops."
Few things kill a motherboard faster than being screwed to the bare metal of the case. [Also check out PCstats article on How Motherboards Are Made - A Gigabyte Factory Tour.] A hardwired short-circuit if you will. Another common issue we saw in the reader responses was incorrectly seated memory.

"When I was taking a PC class a couple of years ago, the guy that sits next to me fried his RAM. I think it was seated wrong when he booted the PC because it made a loud spark noise and smelled like burnt hair. It not only destroyed the ram but also the slot. The slot actually had singe marks in places. His computer continued to smell like burnt hair for the rest of the year."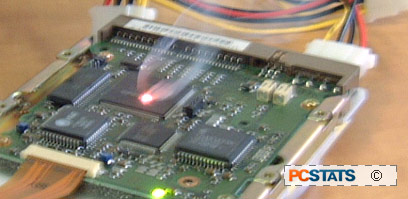 That'll do some damage! A third leading cause of system damage is that annoying little floppy power cable, which is quite possible to plug in incorrectly, leading to situations like this:
"I was showing my class what would happen or not happen when wires are plugged in incorrectly. When I plugged in the power to the floppy drive I unintentionally shifted the power plug to the left one pin, causing a straight short from 12vDC to ground when the power was turned on. Needless to say, when the smoke cleared and the laughter stopped, my class knew what not to do on their PCs."
How Not to Kill Your Motherboard and Devices This Way
If you are not confident in your computer assembly skills, either have a pro do it or find a guide that will not steer you wrong. We've yet to have any complaints about our guide to assembling a PC, so we'll blow our own horn a bit here. Most importantly, once you've put everything together but before you turn the power on, take a few minutes to go over the computer and double check all your connections. It could save you a few hundred bucks' worth of heartbreak.