"The USB drive melted in my hand..."
This is one that we've experienced first hand. Max, our esteemed Editor-in-Chief, had routinely plugged one of his USB flash drives into a Pentium 4 system to transfer data when * pop * off went the computer in a silent flash of nothingness. Needless to say the motherboard, processor, and all the optical drives were toasted. As for the USB key... well, we've never had the courage to try it again.
I've also had Windows XP systems crash on me a couple of times after I've inserted USB devices, though the systems suffered no apparent damage,
USB mishaps and short circuits seem relatively rare next to some of the other entries in this list, but we did receive quite a few letters about them. The defining factor with these incidents seems to be the sheer randomness. A device might work perfectly for months or even years with a given system, then kill it the next time it is plugged in.
The problem with USB is that it transfers more power than most other I/O interfaces, so a short circuit can have disastrous consequences for the rest of your computer if the motherboard is not properly outfitted with board level fuses. Another possible cause is that the 'hot pluggable' nature of USB interfaces means that they are plugged in and unplugged much more than other I/O devices, leading to increased wear and tear and more chance of an electrical mishap.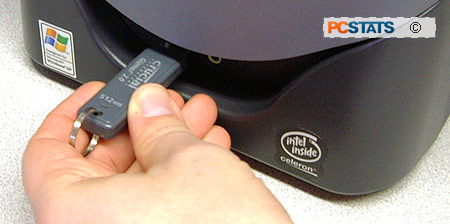 How Not to Kill Your Computer This Way
Actually, there's no easy way to avoid this besides not using USB devices, which is not something we'd recommend. Taking a little time and care when plugging and unplugging your devices is probably the best path to safety. As an aside, several of our readers mentioned having problems specifically with devices that provided front-mounted USB ports, so you might want to reconsider using one of these if your computer case does not normally have front mounted ports. My recommendation is to put a USB hub on the desk, or use a USB port extension cable when plugging in devices frequently.
Excessive Cruelty
"...I was rearranging my speakers on my desktop, when I pulled out my knife to cut the wire ties. I heard this tone like when you unplug something. Turns out I cut my optical mouse cord. It shorted out my onboard USB ports as well..."
Sometimes we really are to blame when our computers kick the bucket. This category belongs to users who, through negligence, accident or direct physical violence, caused their systems to die.
"...I remember killing a 512mb stick of ram. It wouldn't quite fit in the slot, but a little filing of the notches and voila... nothing... ever again!"
It really must be difficult being a computer system in a world filled with owners who can carelessly inflict such damage on innocent digital devices. Oh the humanity!
"...I was leaning over the case to take a look at the motherboard when I dropped my travel mug full of hot coffee inside. Sadly, the lid did not hold..."
I really don't think we need to explain why any of the above actions would cause a computer to cease functioning, do we?