How Not to Kill Your Computer This Way
Take a deep breath, count to ten. Your computer is just a machine, it did not mean to crash and lose your last two hours of work, and it's not laughing at you. Throwing it against the wall might be satisfying, but drywall and plastering is expensive and time consuming. Computers make a big hole. Trust me, I know.
Static Shocks... Zaaap!
We've all heard about the dangers of static electricity and computer systems, and believe it or not, some of what's said is true. While static zaps may not be the lethal reaper of components that they are made out to be in some circles, the fact is that they can destroy your expensive components if you are careless.
"All I did was sit down to use my (running) PC, and ZAP! When I put my hand on the mouse, a static charge went into the mouse, shocking me in the process. The mouse and keyboard refused to work, and I noticed that the mouse started to feel very warm. I restarted my PC, but when it booted again, there was still no response from either the mouse or keyboard. The mouse then started to get so hot that I could not touch it!"
While the average static shock like you'd get if you walked across industrial carpeting then touch a doorknob may seem minor, the fact is that these jolts pack a voltage that can be lethal to delicate electrical components that are used to being spoon-fed only highly conditioned, minimal current. Your body packs much more electrical resistance than the average IC.
Carelessly touching the inside of your PC while you are 'charged up' can be expensive as well as painful.
How Not to Kill Your Computer This Way
When you are going to be working on the inside of your system for any reason, make sure you have a 'ground' source nearby to disperse any static electricity you may have accumulated. Obviously, anti-static wrist straps are good for this, though they are not the essential bit of kit they are made out to be. Having a computer power supply plugged in nearby will suffice, as touching the metal shell of the PSU will discharge any major static charges you've built up. Do this every time you've moved away from your desk and you should be fine.
Also, don't wear fleece sweaters. Fleece sweaters kill computers. And cats... cats are walking static death bombs. Keep them away from your system. I once found my cat sleeping inside my old computer. Needless to say, it was never quite the same afterwards (and the computer didn't work too well either).
Moving Violations
Computers contain many different parts, as you know. In the process of transporting said computers, some of these parts may be knocked slightly loose. The end result of this can be ugly.
"Came home from a LAN party at a friends. One of those clips that hold your memory in place popped out unseating the stick. Fried my motherboard. Memory still works though..."
It's unknown how many fatalities LAN parties contribute to the global toll of computers, but it's got to be a large number. Moving your computer too often is a recipe for disaster.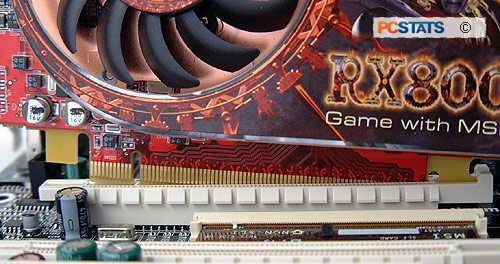 As heatsinks get larger and heavier along with video card cooling solutions, both of these components can place a strain on motherboards when the computer is still. Moving your system around just adds an extra load of strain.
How Not to Kill Your Computer This Way
If you've just transported your system any distance, take the cover off and check inside to verify that your expansion cards, memory, heatsink and video card are still seated correctly. Doing this before you power on your system can substantially increase its lifespan. Also, don't drop it.
Overclocked 1MHz Too Far
The final entry on this morbid list is another that deals entirely with you the user performing brutal acts on your own computer. Yes, we're talking about overclocking. This process has become so routine these days that it's hard to believe that it can actually have consequences; remember though, that overclocking still voids your warranty with any hardware manufacturer you care to mention. If they provide software tools to make overclocking easier, well that just makes it easier for you to void your warranty doesn't it?

Overclocking places a strain on your components, as does the increase in voltage which successful overclocking often requires. This will shorten the life of the affected components, though it's unlikely to kill them outright. Having bought some of our office overclocker Colin's used components in the past, I can understand the long-term damage that can be inflicted with this process!
As I said, it's difficult to quickly kill your system by overclocking, though it may be accomplished if you set the bar way too high. A successful overclock requires patience. Attempting to increase performance levels by large amounts right away simply invites disaster.
How Not to Kill Your Computer This Way
Well, don't overclock your system. Ok, just joking... what I meant was, if you are going to overclock, take it carefully. Study what others have done (there are several excellent guidelines available on the web) and be cautious. Remember you are voiding your warranty, so there's no safety net with overclocking by definition.
Find out about this and many other reviews by joining the Weekly PCstats.com Newsletter today!