TwinMOS Speed Premium PC3200 DDR Review
---
Most of the dual-channel DDR memory kits on the marketplace are aimed at hardcore enthusiasts and overclockers; users with money to burn. Agressive timings, shiny heatspreaders and even banks of LED lights are the order of the day. You have to wonder how many high-end products this market can possibly support though, with all these 'extreme' memory products competing for a sparse amount of performance users.
The vast majority of memory purchased (in North America at least) is still bought in ones or twos 'white boxed' at retail stores. This is more economical for the end user, but not ideal for today's dual-channel motherboards which demand absolutely identical memory to provide the best performance.
With this said, it would not be surprising to see more 'mainstream' dual channel DDR kits come onto the market, lacking the bells and whistles of the high-end stuff, but providing the guaranteed compatibility that dual-channel users crave.

| | | |
| --- | --- | --- |
| | Twinmos PC3200 Speed Premium | |
| | | |
Over the next couple pages PCSTATS will be taking a look at the 'Speed Premium' PC3200 dual channel DDR memory kit by TwinMOS. This mainstream DDR dual channel kit features a pair of PC3200 512MB DDR modules with CAS timings of 2.5-3-3-8. Though not aimed at the extreme overclocker or performance enthusiast, this package looks to offer decent dual-channel performance at a price that won't cause pain.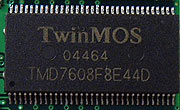 Unlike most dual-channel kits on the marketplace, these TwinMOS modules do not come equipped with any heatspreaders. This should not be taken as a negative though. Heatspreaders are not necessary to cool conventional DDR memory, since the ambient air in the case currently provides more than enough heat transfer.
Memory modules that use BGA packaging generally require heatspreaders for protection, since their memory chips are very fragile, but since these Speed Premium 512MB modules use the standard TSOP II packaging this is not an issue. Remember, this is straight DDR, not DDR-2 DRAM.
Each PC3200 DDR module features 16 32MB Twinmos TMD7608F8E44D memory chips. The modules themselves come with a lifetime warranty from TwinMOS.