To create a permanent Knoppix home directory click the 'penguin' icon on the taskbar and choose 'configure' then 'create a persistent KNOPPIX home directory.'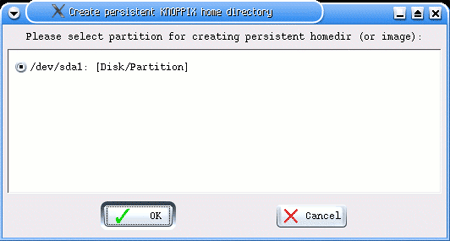 You will be prompted for the location of your new portable home directory. Your USB storage devices will be listed as sda1, 2 etc.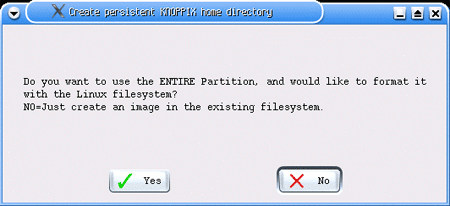 You now have the choice of using the entire disk for the home directory partition or just creating a single file of a set size that will act as a virtual directory. We'd recommend the latter, unless you know you are going to need a lot of space, since the former means you can't use the USB key for anything else.

Now set the desired size of your file and whether you wish to use encryption (we'd recommend not using it here, since it adds considerable complication). The program will now format your USB drive or create the 'home' file, ready for use. Note that this directory does not automatically replace the '/home/knoppix' directory which is the current default user folder. In order to make this happen, you need to reboot the system and type
Knoppix home=/dev/sda1
At the 'boot:' prompt that appears when you boot from the Knoppix CD. This informs the OS that your home directory should be linked to the device in the /sda1 directory. Knoppix will still treat your home directory as being the default '/home/knoppix' but all files in this directory will be retrieved from the USB drive at the start of the session and saved onto it at the end.