The next essential step is to get your Knoppix system connected to the Internet and/or your network. This is a fairly painless procedure, as with recent versions of Windows.
If you use cable Internet, a home router or other Internet sharing device, all you need to do is configure your network adaptor within Linux. If your router uses DHCP to assign IP addresses to your home network, chances are you are already connected, since Knoppix defaults all Ethernet adaptors to find an address automatically just as Windows does. If you need to set your network adaptor manually, click on the Penguin icon on the taskbar, then choose 'network/Internet' and 'network card configuration.' A series of dialog boxes will open up prompting you for the correct settings.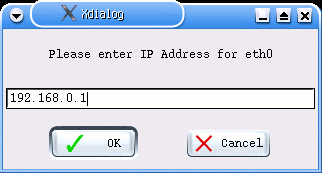 Once you have entered the correct settings, you can use one of several web browsers built into the CD including Mozilla, Konqueror and Lynx. Look in the 'Internet' section of the menu to find these programs or use the taskbar shortcuts for Mozilla and Konqueror. If you are using DSL or a modem connection, you can use the included configuration utilities to set up your connection easily.
Getting to work: OpenOffice, GIMP, etc.
Knoppix is a great showcase for Linux productivity applications, since it contains almost all of the most popular ones, including the OpenOffice suite and the GIMP (GNU Image Manipulation Program) graphics and photo-editing program. Give these a spin and see how you like them. Both are open source, have huge online communities of enthusiastic users and have Windows versions available if you find you like them.
Browse through the start menu to find an assortment of other essential programs, from media players to text editors. No matter what you wish to accomplish, chances are Knoppix has something installed that will do it.
One thing you will notice about using major application like OpenOffice with Knoppix and other 'live' CD distributions of Linux is that loading times can be quite slow. This is not due to Linux itself, but is because the entire application needs to be uncompressed into main memory from the CD, which is considerably slower than your hard disk. In a full (hard drive based) Linux installation, applications are loaded fully from the hard disk as in Windows XP, so this slowdown is not a factor.
This is one of the unfortunate sacrifices you make for the flexibility of a 'live' operating system you can take anywhere. For a lightweight portable version of Linux without the slow load times (though without a lot of the cool software) check out Puppy Linux here.
We hope you've enjoyed the first of PCstats' Linux guides... If all went well, you should be a lot more familiar with the way the KDE desktop and the Linux file system operate. By now you should have a fair idea of whether you wish to proceed further with the Linux operating system. If so, our next guide will cover installing a hard-drive resident version of Linux.
Find out about this and many other reviews by joining the Weekly PCstats.com Newsletter today! Catch all of PCstats latest hardware reviews right here.