In the last couple of months, most of the web (us included) has been singing the praises of Socket 939 Athlon 64s, but Socket 754 Athlon64 parts should not be entirely forgotten. Considering that the prices of Socket 754 components are often well below MSRP these days, those of you looking for a cheap upgrade could be in for a treat. With 64-bit software on the horizon, users should really contemplate only purchasing parts that are 64-bit compatible.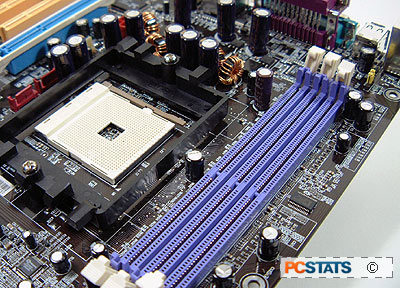 With a retail price of just $113 CDN ($93 US) the AOpen n250a-FR offers users a good quality motherboard that won't break the bank.
This motherboard comes with everything most users would ever need, peripherals like 5.1 audio, an additional Serial ATA/RAID controller, a Gigabit network card and IEEE 1394. If you find the board is missing something, there are five PCI slots for your expansion needs. We were also pleased to see that AOpen includes a full (90 day subscription) copy of Norton Anti-Virus 2004 with the board.
Not everything is perfect though. AOpen could have done a better job at labelling the motherboard. An experienced computer user wouldn't have any problems, but novice users might have a difficult time identifying what is what.
The performance of the AOpen n250a-FR was generally very good considering we were using an Athlon64 3200+ and testing against Socket 939 equipped Athlon64 4000+ systems. In the office benchmark suites there's no way you could tell the difference between the AOpen n250a-FR and the other higher-end motherboards, except perhaps on pricing.
In the 3D tests the differences between systems was surprisingly minimal, less than we would have expected given the relative power of the Athlon64 4000+ CPU compared to the Athlon64 3200+ socket 754 processor we used to test this motherboard. AOpen's strong suit has never been overclocking but the n250a-FR did pretty well, hitting 243 MHz.
If you're looking for an affordable upgrade or are building an inexpensive box with 64-bit compatibility in mind, the AOpen n250a-FR motherboard has the goods to deliver in all facets of computer performance.
Find out about this and many other reviews by joining the Weekly PCstats.com Newsletter today! Catch all of PCstats latest hardware reviews right here.
Related Articles
Here are a few other articles that you might enjoy as well...