Overclocking is one area where AOpen has traditionally been a weak performer, so we weren't anticipating much from the AOpen n250a-FR motherboard on this front. I first lowered the CPU multiplier to 8x and turned down the memory to 166 MHz mode, then slowly raised the clock speed of the motherboard 2-3 MHz at a time.
With both core and memory out of the way as limiting factors, we were actually able to push the AOpen n250a-FR quite far. In fact we overclocked it to 243 MHz. Anything higher and the board would give random errors while running benchmarks. We believe that heat might be the issue since the NF3-250 chipset heatsink was quite hot to the touch, and is only attached via thermal tape.
Aopen n250A-FR BIOS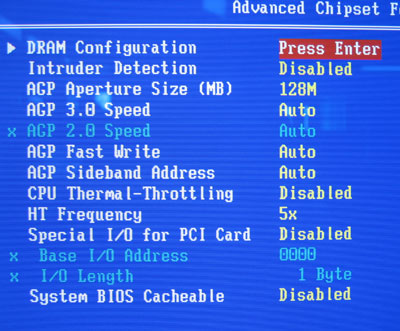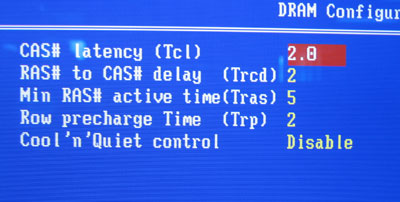 In the Advanced Chipset features section of the BIOS, we have a whole host of options from AGP tweaking to HyperTransport operating frequency adjustments. Inside the DRAM configuration section we find the usual memory timing adjustments, as well as the option to enable AMD's Cool 'n' Quiet.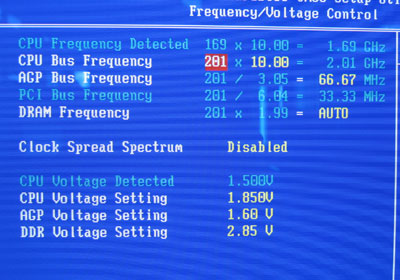 In the Frequency/Voltage Control section you can perform motherboard clock speed adjustments in 1 MHz steppings between 200-250 MHz as well as change the AGP speed and memory operating frequency. Maximum CPU voltage is 1.85V, AGP voltage 1.6V and memory voltage 1.85V.

PCStats Test System Specs:
processors:

amd athlon64 4000+ socket 939
amd athlon64 3200+ socket 754*

clock speeds:

4000+: 12 x 200 mhz = 2.4 ghz
3200+: 10 x 200 mhz = 2 ghz

motherboards:

msi k8t neo2 fir (k8t800 pro)**
msi k8n neo2 platinum (nf3 ultra)**
epox 9nda3+ (nf3 ultra)**
gigabyte ga-k8nxp-9 (nf4 ultra)***
asrock k8 combo-z/asr (ali m1689)**

videocard:

asus x800xt/vtd**
msi rx800xt-vtd256***

memory:

2x 512mb mushkin pc3200 special ed.

hard drive:
40gb western digital special ed
cdrom:
nec 52x cd-rom
powersupply:
vantec 400b ion
software setup

windowsxp build 2600
via 4in1 4.53v
forceware 4.34
forceware 6.10 beta
catalyst 4.9

workstation benchmarks

sysmark 2004
business winstone 2004
content creation 2004
super pi
sisoft sandra 2004
pcmark04
3dmark2001se
3dmark05
aquamark3
comanche 4
x2: the threat
ut2003
ut2004
doom 3
*the athlon64 3200+ processor was used only on the asrock k8 combo-z/asr board to test socket 754 performance. **using the asus x800xt/tvd which is based on the radeon x800xt pe gpu. ***using the pci express-based msi rx800xt-vtd256 which uses the radeon x800xt gpu (slightly slower than the asus card).