AOpen n250a-FR Socket 754Motherboard Review
---
PCstats has mainly been focusing on Socket 939 motherboards lately, but Socket 754 AMD Athlon64's have quietly been surviving... and even flourishing. Many stores still have a large inventory of Socket 754 Athlon64 CPU's and boards, so prices are much of the time well below MSRP levels.
If you're an average computer user and only upgrade your PC once every three to five years, this is your chance to scoop up some big bargains! Now, there's technically no software support for 64-bit operating systems right now, but in one-to-three years time 64-bit programs should be the default, especially with the way computers advance. Besides that, even Socket 754 Athlon64 chips will run in 32-bit mode faster than most equivalent 32-bit processors.
Currently the only game in town for 64-bit hardware is AMD. Intel has stated that it plans to release 64-bit hardware in time for the Windows XP 64-bit version release later this year, but that doesn't help us out much right now does it?
PCStats will be focusing in on the AOpen n250a-FR Socket 754 nForce3-250 motherboard in this review. This board supports any Socket 754 AMD Athlon64 or any of AMD's new budget 32-bit AMD Sempron processors. Three DDR memory slots accommodate up to 3GB of non ECC unbuffered PC3200 DDR RAM. Both the socket 754 Athlon64 and Sempron processors run with single channel DDR, as does the nForce3-250 chipset.

AOpen n250a-FR Motherboard



Includes:

Users Manual, Driver CD, Norton Anti-Virus 2004, Quick Installation Guide, Serial ATA Driver Diskettes, Ultra/133 IDE cable, Ultra/33 IDE cable, Floppy Drive Cable, Serial ATA Cable, Molex to Serial ATA Power Cable, USB/Game Port Bracket, IEEE 1394 Bracket, Audio Bracket, Rear I/O Panel
The nVidia nForce 3 chipset does not support PCI Express, so graphics are provided by a standard AGP8x slot. In terms of onboard features, the n250a-FR motherboard includes an additional Silicon Image Sil3114 Serial ATA/RAID controller, an onboard 5.1 audio codec, a Realtek Gigabit NIC, IEEE 1394 and a dual BIOS feature. With the additional RAID controller, drive support includes a whopping six serial ATA devices as well as the standard complement of 4 IDE devices. Five PCI slots open up the board for further expansion.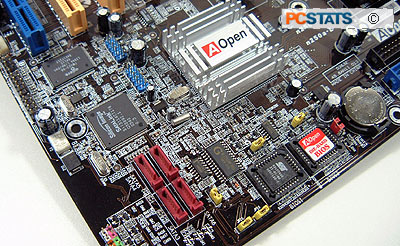 As you can see, the AOpen n250a-FR is pretty well equipped hardware-wise and includes everything most users would need. We were pleased to see that AOpen also included a full version of Norton Anti-Virus 2004 software, complete with a 90-day subscription too.
Hard Drives: the dinosaurs of computer technology
---
Modern parallel ATA is an extension of the original parallel ATA standard from the 1980s. While their performance has been acceptable for the last twenty years, the paltry 100MB/s transfer rate(the ATAPI-7 or Ultra/133 standard has never been finalized) is simply too much of a bottleneck for today's systems and thus the Serial ATA standard was born.

The headroom on first generation Serial ATA devices is 150MB/s, already 50% faster than the previous technology. Future generations are pegged to move as quick as 600MB/s and Serial ATA is expected to be the standard for the next 10 years at least. Second generation Serial ATA controllers are just hitting the market, with speeds up to 300MB/s and support for a whole host of new features like Native Command Queuing and Port Multipliers. Hard drives are still the slowest technology in a modern computer, but they are much better than before.
AOpen has done a good job with the layout of the AOpen n250a-FR. The IDE/Floppy and main ATX power connector will not interfere with any other devices where they are, sitting just right of the CPU socket. Dual BIOS systems can be a real lifesaver, and this board has got things covered on that front. All motherboards should come with dual BIOS as far as I'm concerned.
AOpen has been in the motherboard business long enough to know how to do the little things right. For instance, they put the MAC address of the network card on a sticker on the actual port itself. Those of you who are into networking will certainly appreciate this especially if you do any filtering on your network via MAC addresses.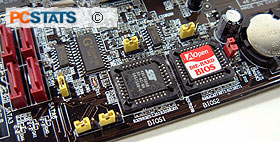 Another nice thing AOpen has done is place a fan header just above the AGP slot. Since many people equip their videocards with after market coolers, this makes connecting the fan very simple. The Quick Installation Guide that AOpen includes with the n250a-FR board is also quite helpful, and it even guides you through the perfect order to install both hardware and software components!
Like all things, there are a couple points that could have been improved. The USB 2.0 ports could have been placed in a better location for one thing. As it is, they're between the third and fourth PCI slots and could potentially interfere with longer PCI devices. The motherboard is not particularly well labelled and users will have to refer to the manual or quick installation guide when installing the board, which can lead to mistakes.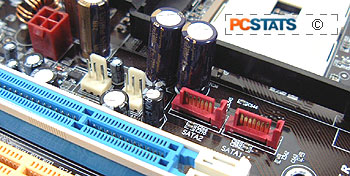 One of my biggest pet peeves with nForce3 based motherboards is how they place the first two Serial ATA channels just below the CPU socket. Thankfully they're Serial ATA so they won't obstruct anything much, but this makes keeping the drive cables tidy, difficult.