Albatron K8X890 Pro II K8T890 Motherboard Review
---
In a few days time, VIA will present AMD with its 100 Millionth chipset. Quite a feat for a collaboration that has already been 10 years in the making. Looking back, when AMD introduced the Socket A Athlon in 2000, its success was largely due to VIA's KT133 chipset which made a fast and stable platform for the new Athlon processor. It was also VIA that first brought a reliable DDR chipset to AMD.
Yet, VIA's success at producing a K8 chipset for the Athlon64 platform has remained largely muted, even as the honeymoon wears off on the VIA K8T890. With PCI Express being the new battleground for AMD-based 64-bit motherboards, I for one hope that VIA breaks through nVidia's shadow quickly; after all, more manufacturers vying for the Athlon64 platform should translate into better price for everyone.
Today we're going to look at an Albatron K8X890 Pro II motherboard which uses VIA's new K8T890 chipset, so you know what that means - PCI Express videocards! This Albatron motherboard supports all Socket 939 AMD Athlon 64 or FX processors as well as up to 4GB of unbuffered non-ECC PC3200 DDR memory (in dual channel). The VIA K8T890 chipset supports PCI Express, so as you'd expect we see a full PCI Express x16 video slot on this board as well as a single PCI Express x4 peripheral slot.

Albatron K8X890 Pro II Motherboard



Includes:

Driver CD, Users Manual, Motherboard Information Sticker, WinCinema Pro CD, Two Ultra/133 IDE cables, Floppy Drive Cable, Serial ATA Cable, Molex to Serial ATA Power Cable, Rear I/O Shield, mPower VRM, IEEE 1394 Bracket
The K8X890 Pro II also includes an onboard audio controller, IEEE 1394 and a Gigabit LAN adaptor built in. If you need to expand further, there are three regular 32-bit PCI slots as well as the one PCI Express x4 slot.
The choice of a single PCI Express x4 slot instead of multiple PCIe x1 slots is interesting, and something we've yet to see on other PCI Express-capable boards thus far. On one hand, it does offer higher bandwidth by merging the four extra PCIe x1 lanes that the chipset possesses into a single slot.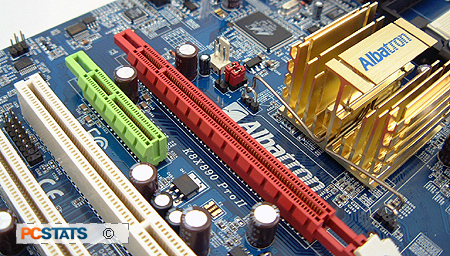 On the other hand, even PCIe x1 peripherals are not common yet and when they are, a single slot (the PCIe x4 slot is fully compatible with PCI Express x1 peripherals) may not seem like enough.
Most VIA and nVidia-based solutions we've seen incorporate two or three PCIe x1 slots instead. Time will tell whether this is a smart decision by Albatron or not, but for now, there's still no pressing reason for anyone to have PCIe peripherals.
Overall Albatron did a decent job with the layout of the K8X890 Pro II motherboard and most things are easily accessible. The motherboard was fairly well labelled and users will probably not have to refer to the users manual when installing the board into a case. The clear CMOS jumper is in a great location just under the Serial ATA ports. Nothing is worse than having to clear the CMOS and finding the jumpers under a huge clutter of cables first.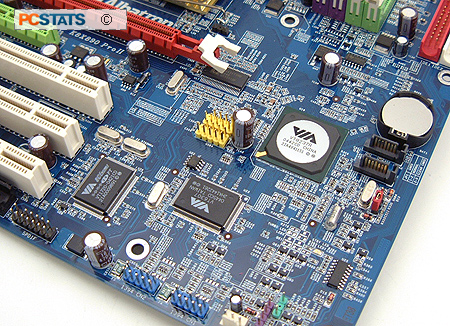 The motherboard layout wasn't perfect however, and we did have our fair share of complaints. First, the floppy drive connector is in the absolute worst spot possible under the last PCI slot. We've talked about this before but it seems Albatron hasn't taken notice yet.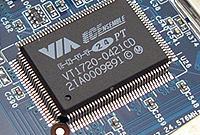 As it is, you'll have to wrap the floppy drive cable around your other peripherals and users of larger/full tower cases might have problems with their cable being too short.
On the chipset front, we find the aging VIA VT8237R Southbridge is used. This is something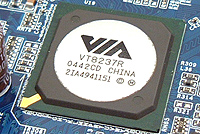 VIA really has to work on, its new VT8251 Southbridge is way behind due. The VT8237R is a reliable solution, and well proven, but only supports two Serial ATA channels while the competition supports at least four. It's direct competition has also moved to the Serial ATA II standard while the VT8237R supports Serial ATA only.
Albatron goes a bit further with the onboard audio solution on the K8X890 Pro II. Instead of using a CPU-sapping AC'97 codec, the K8X890 Pro II is equipped with VIA's ENVY24 PT audio controller. We've tested the ENVY24 PT already a couple of times in the past and found it to be very good music and gaming! Best of all it doesn't drain system resources like those really inexpensive audio codecs do.