Albatron PX925XE Pro-R Motherboard Review
---
The introduction of Intel's 925XE chipset marks a turning point in the long life of the Pentium 4 processor. With the 925XE, the P4's front side bus had finally breached the 1GHz mark - jumping from 800MHz to 1066MHz FSB.

There are many reasons for this latest FSB increase, but it all really just boils down to AMD. You see, when AMD released the Socket 939 version Athlon64, Intel's Pentium 4 processor fell behind the performance curve, a lot. While Intel's high end Extreme Edition processors were just as fast as AMD's best, it's mainstream Pentium 4's lagged behind equivalent AMD CPUs.

To counter this situation, Intel engineers raised the FSB of the newest Pentium4 processors to 1066MHz. This is basically a cheap and effective way to increase performance without having redesign the entire core architecture. Enthusiasts and overclockers have long known that increasing FSB speeds even slightly, while keeping the processor speed at approximately the same figure, can often increase performance past that of a CPU which is the next speed grade up.

Here's an example, a Pentium 4 2.4C benchmarks faster than a Pentium 4 2.66B in most applications thanks to its faster operational FSB. With the bus speed operating quicker, data moves between components faster and that's why overall performance increases. Now that Intel has migrated to the 1066 MHz FSB, the performance gap between Pentium 4 and Athlon64 processors should by all accounts shrink a little. Good news certainly for the boys in blue.

Albatron PX925XE Pro-R Motherboard



Includes:

Users Manual, DIY Installation Guide, CPU Installation Guide, ITE RAID Manual, three Ultra/133 IDE Cables, One Floppy Drive Cable, One Serial ATA Cable, One molex to Serial ATA Power Cable, I/O Bracket, Driver CD.
At the tip of the current chipset ice berg is the Intel 925XE, and motherboards like the Albatron PX925XE Pro-R which are built upon its foundations. The 925XE chipset is a fickle one, supporting only Socket 775 Pentium 4 processors compatible with an 800 MHz or 1066 MHz FSB.
Its four dual channel DDR-2 memory sockets will accommodate up to 4GB of non-ECC unbuffered DDR2 memory. Considering that the 925XE is ideally suited for use with '1066FSB' Pentium 4 Extreme Edition CPUs, as a killer gaming rig, we'd recommend using at least 2GB of system memory for the best benefit.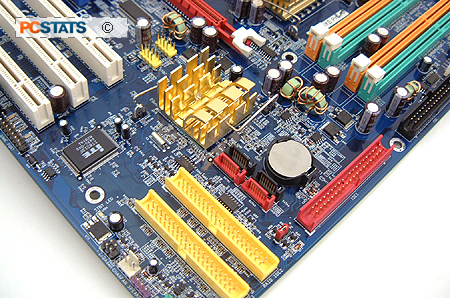 Onboard hardware features of the Albatron PX925XE Pro-R include; an IDE RAID controller, 7.1 channel 'Azailia' audio codec, Gigabit LAN adaptor & 10/100 NIC. Video is provided by the single PCI Express x16 slot, while a pair of PCIe x1 slots and three conventional PCI slots support expandability. A total of 4 SATA and 6 IDE drives/devices are supported. Four USB 2.0 ports provide external connectivity.