After downloading the full 10.7MB install file (a 2.4MB web install is also available) we proceed to install the VIA Grease Monkey application on our Windows XP test system, stuffed to the PS/2 slots with 12 games ranging from brand new, to old news, to completely obscure. Here's a listing of the games I've been playing on this system:
Doom 3
Deus Ex: Invisible War
Prince of Persia: The Sands of Time
Thief: The Dark Project
Neverwinter Nights (with Shadows of Undrentide expansion pack)
Gunmetal
Arx Fatalis
Yager (somewhat obscure shooter, better known in Europe and on the X-Box)
Operation Flashpoint
MoonBase Commander (obscure strategy game, but fairly recent)
NBA Live 2000
Black and White
Warhammer 40,000: Rites of War
As you can see, it's quite an eclectic set. We thought that using the obvious games (like half-life 2) would be a little too straightforward, so we tried some lesser-known titles to see how the service handled them. Of course, we also had Doom 3, which we heard was kind of popular...
The somewhat poorly written EULA (with a backend by Aardwork software) contains no nasty surprises or gotchas.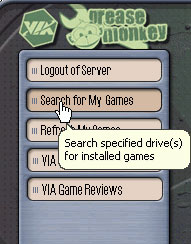 In its current iteration, the Grease Monkey software is fairly resource hungry. The program itself ate up almost 75MB of memory when open, and each download window used another 15MB in addition to eating about 15% of CPU time. Fortunately the program itself used no CPU when idle. This is not an application you want to keep on while actually playing your games. Grease Monkey does not stay resident in the system tray though, so it's either 'on' or it's not.
As you'd expect from a commercial product, Grease Monkey appears to be spyware and adware free. Scans run with the latest updates of both Microsoft Antispyware and Ad-Aware SE turned up no new traces associated with the program.
Logging in and scanning your system for games
Once VIA Grease Monkey is installed, the first order of business is to login to the Grease Monkey server. You can create a user ID at this point to register for an evaluation period, or if you've purchased the software you can enter your full details here.
Once you've logged in, you need to allow Grease Monkey to search your drive for games.
Hitting the 'Search for my games' button will bring up a dialog box asking you which hard drive locations you wish to have the program search.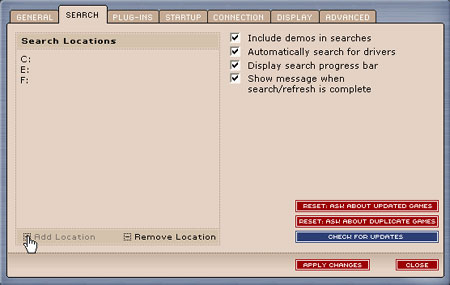 Obviously, narrowing things down here will speed the searching process up. We just fed it all three partitions in our test system and let the program chew away. The first full system search took less than three minutes and scanned our system not only for games but also for video card drivers (our test system was using an Nvidia Geforce FX 5950 Ultra card with the most recent drivers) and Direct X versions (we were fully up to date here too).