Doom 3 is the most advanced OpenGL game to date. It takes advantage of the latest videocard technology and pushes the processing power of the CPU to its absolute limits. At its highest setting, Ultra quality, texture sizes pass the 500MB mark which means even tomorrow's videocards will have a hard time running everything. The frame rates in the game itself are locked at 60 fps so anything above that point is wasted. Each test is run three times and with the third run being recorded.
Doom 3 HQ 1024x768
Anti-Aliasing
FPS
Ranking

MSI NX6800GT-T2D256E 2x AA

98.9

MSI NX6800GT-T2D256E QC AA

98.8

MSI NX6800GT-T2D256E 4x AA

78.7

MSI NX6800GT-T2D256E 8x AA

45.7
Anisotropic Filtering
FPS
Ranking

MSI NX6800GT-T2D256E 2x AF

111

MSI NX6800GT-T2D256E 4x AF

109.2

MSI NX6800GT-T2D256E 8x AF

108.3
MSI NX6800GT-T2D256E 16x AF
107.8
Anti-Aliasing and Anisotropic Filtering
FPS
Ranking

MSI NX6800GT-T2D256E 2x AA, 8x AF

96.6

MSI NX6800GT-T2D256E 4x AA, 16x AF

75.8
Doom 3 framerates don't really suffer until we turn on 8x AA. Gamers who like eye candy will love the fact that the game is perfectly playable with 4xAA and 16x AF!
It's Fast, and it's Quiet
If you haven't guessed already, the MSI NX6800GT-T2D256E is one fast videocard.
With AA/AF enabled the NX6800GT-T2D256E still remains very competitive and should provide decent framerates along with a beautiful image. All this performance yet the videocard is extremely quiet even when the fan is set to its fastest speed! We really do see MSI work some magic with the NX6800GT-T2D256E.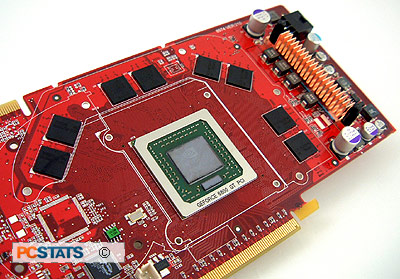 While SLI is an expensive route to go for gamers, many are simply buying a high end card now and will team that card up later with an identical model. The MSI NX6800GT-T2D256E is an excellent videocard for those gamers who demand excellent framerates for games right now and who want to go SLI in the future, although we were unable to test its SLI performance in this review (a second card was not supplied by the manufacturer for testing).
With the recent WHQL release of the Forceware 71.84, users can now create their own SLI profiles for games. That means just because a title is not natively supported doesn't mean you can't experience SLI; go and create your own custom profile and you're set!
Based on the nVIDIA GeForce 6800GT core, this MSI videocard comes with a ton of goodies. First there's a huge software package that accompanies the card, 14 CDs worth of software which includes three full version games. The videocard only supports S-Video output and not component out, but this isn't really suited for home theatre capabilities either. With two DVI ports, the MSI NX6800GT-T2D256E is a good option for those of you who want not just to run dual monitors but to use dual digital LCDs! MSI includes one DVI to analog converter; they should have included two.
Our test card was a pretty decent overclocker, hitting 416 MHz core and 1.16 GHz memory which is higher than the default settings of GeForce 6800 Ultra cards. In most applications this speed increase gave the NX6800GT-T2D256E a pretty decent performance boost. Consequently it consistently battled it out with the MSI RX800XT-VTD256E and the various 6600GT SLI setups for top spot, winning most of the time.
With a retail price of $533 CDN ($444 US), the MSI NX6800GT-T2D256E is actually a pretty good deal when you compare it to higher-end GeForce 6800 Ultra and Radeon X850XT PE videocards. If you're a gamer looking for something high-end in PCI Express that comes with a lot of features and the possibility of some SLI action, look no further.
Find out about this and many other reviews by joining the Weekly PCstats.com Newsletter today! Catch all of PCstats latest hardware reviews right here.
Related Articles
Here are a few other articles that you might enjoy as well...