MSI NX6800GT-T2D256E Geforce 6800GT Videocard Review
---
One thing I like about nVIDIA is that the company is always willing to try out new ideas. In its tussle with 3dfx, T&L was the turning point, leaving 3dfx's Voodoo pretty much dead in the water as a result. nVIDIA's battle with ATi has been a lot tougher, and so far neither company is totally dominating the market. Strong rivalries usually lead to lower prices for consumers.... the key word here is usually.
nVIDIA was not the first company to pair up two videocards to work together but it's the first to really make it mainstream. 3dfx had the Voodoo2, but they were extremely expensive and with the introduction of the AGP slot, PCI videocards like were left in the dust, no matter how innovative.
With the release of the new WHQL Forceware 71.84 drivers, users can now create their own SLI game profiles, a point which will probably save SLI from becoming an obscure curiosity 6 months from now. The new drivers mean that any game profile that's not natively supported by the SLI drivers can be user-created. Of course if the custom profile blows up and hoses your machine, you're on your own. That's the catch-22 of it all.

MSI NX6800GT-T2D256E Videocard



Includes:

Users Manual, Quick Installation Guide, Driver CD, MSI 3D Software, WinDVD, WinDVD Creator, Restore It!/Virtual Drive CD, Software Super Pack CD, 14 in 1 CD, URU CD, Price of Persia CD's, XIII CD's, DVI to analog converter, S-Video to S-Video cable, VIVO cable, Two Molex to 6 pin 12V Power Cable
PCSTATS is pleased to be looking at the MSI NX6800GT-T2D256E Geforce 6800GT-based PCI-Express videocard in this report. Beyond the catchy name, the NX6800GT's notable points are 256MB of GDDR3 Samsung BGA DRAM, and that it doesn't take up an extra slot on your motherboard with a huge cooling solution like ATI seem so fond of doing lately. nVidia had its fun in this ballpark with a loud, and now obsolete GeForce 6800 Ultra videocard series. Quiet is king, so listen closely as we dish out the details...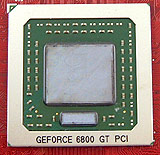 As you've probably noticed, the NX6800GT-T2D256E is a dual DVI output videocard which is great news for users of LCD monitors. We've long asked for dual DVI-out videocards and perhaps the trend is finally starting to shift that way. Also included in the package is one DVI to analog converter. MSI really should have bundled two, but I guess you can't win them all.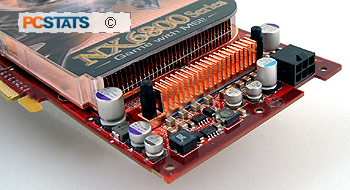 There's little doubt that high end videocards generate a lot of heat and the NX6800GT-T2D256E is no exception. MSI employ a heavy single slot copper HSF that cools both the core and the memory. We're happy to report that during testing it kept the core relatively cool and temperatures hovered around 60 degrees Celsius with the fan set to quiet mode.
With the fan set to high, temperatures dropped to about 55 degrees Celsius and the NX6800GT-T2D256E was still almost silent.
Near the rear of the videocard we see a small heatsink that cools the card's MOSFETs and it does a pretty good job. To the right of that is the six pin 12V videocard power connector. The GeForce 6800GT sucks up a lot of juice and the PCI Express slot simply can't supply enough by itself. Most power supplies being sold today, even ATX 2.0 compliant ones, do not have this connector so MSI throws in an adaptor for it.

Not many companies consistently rival MSI's software package, not even other tier one manufacturers like Asus and Gigabyte. With the NX6800GT-T2D256E, we get full versions of XIII, Uru and Prince of Persia: The Sands of Time as well as a 14 game demo CD and system utilities!