Those of you who are sound sensitive will love the slider on the top of the NX6800GT-T2D256E videocard heatsink. It allows you to select the speed of the videocard fan, from 2800 RPM which is supposed to produce 30 dB of sound to 4000 RPM which makes about 39 dB of noise.
Even at full blast, this videocard is quiet, and you're certainly not going to notice it once the NX6800GT-T2D256E is installed into a case.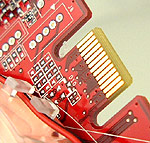 While the speed control feature works quite well we would have preferred a temperature controlled automatic switch instead of a dial as it's not always convenient to access the inside of the computer. Or, perhaps MSI could make this feature accessible through the MSI utility software that's included with the videocard? For the moment, it isn't.
The MSI NX6800GT-T2D256E is SLI compatible thanks to the little connector on the top left hand corner of the videocard, but since we only have one of these cards we won't be able to run any SLI tests in this review. Those of you who do plan to run SLI, make sure you buy two identical videocards! If not, you'll have problems getting SLI running as according to nVIDIA the two cards must have identical cores as well as vendor and videocard BIOS versions.
Overclocking the NX6800GT-T2D256E
By default, a GeForce 6800GT's core runs at 350 MHz while the memory hums along at a full 1 GHz. When you think about the price difference between the 6800GT and 6800 Ultra, it's pretty amazing that the card clock speeds are so close (350 MHz VS 400 MHz for core, 1 GHz VS 1.1 GHz for memory).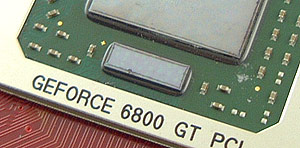 As usual we started with core overclocking first and instead of going up in 1-2 MHz intervals like a good overclocker should, I immediately raised the clock speed to 400 MHz. Unsurprisingly, the NX6800GT-T2D256E had no problem running at 400 MHz!?
It passed 410 MHz but anything above 416 MHz and the nVIDIA drivers would complain about hardware failure. I'm not sure what the problem was because the core did not exhibit any signs of instability or artifacting.
With the memory I decided to play nicely and only went up in 10-15 MHz steps. We were pleasantly surprised to be able to crack the 1.1 GHz mark and the memory still had more left in it. In the end, the memory on the MSI NX6800GT-T2D256E maxed out at an impressive 1.16 GHz; definitely a very nice overclock!

PCStats Test System Specs:
processor:

amd athlon64 4000+

clock speed:
12 x 200 mhz = 2.4 ghz
motherboards:

gigabyte ga-k8nxp-sli (nf4-sli)
gigabyte ga-k8nsnxp-939 (nf3 ultra)

videocard:

msi rx800xt-vtd256e
powercolor x700 pro
gigabyte gv-rx80l256v
albatron trinity geforce 6600gt agp
msi nx6600gt-td128
albatron trinity pc6600
gigabyte gv-3d1 (single mode)
gigabyte gv-3d1 (sli mode)
msi nx6600gt-td128e (single mode)
msi nx6600gt-td128e (sli mode)
msi nx6800gt-t2d256e

memory:

2x 512mb mushkin pc3200 l2 v2

hard drive:
74gb wd raptor 10k rpm sata hdd
cdrom:
aopen 52x combo
powersupply:
seasonic super tornado 400w
software setup

windowsxp build 2600
nforce
catalyst 4.12
detonator 66.93

benchmarks

3dmark2001se
3dmark05
codecreatures
aquamark
aquamark3
x2 the threat
ut2003
doom3

aa test, af and aa+af test
3dmark2001se
ut2003
the agp and pci-e systems use a different motherboard but results are shown for reference.