Overclocking Results:
| | | |
| --- | --- | --- |
| | 2-2-2-5 | 3-3-3-9 |
| memory speed: | 246 MHz | 302 MHz |
Before we got to overclocking, the first thing we did was lower the CPU multiplier to 6x. Lowering the multiplier makes sure that the Athlon64 4000+ processor is not the overclocking bottleneck. This is only done during overclocking testing. When we benchmark, we will raise the processor's clock speed to approximately the same as stock.

With the memory using Samsung K4H560838F-TCCD DRAM and starting at 200 MHz with 2-2-2-5 timings, we began to slowly raise the clock speed of the motherboard. The GEMiNI PC3200 memory modules seemed up to the overclocking game but we started to see weird errors at around 218 MHz. The memory would start to crash or reset the system while running 3DMark05 or X2: The Threat. Increasing the memory voltage to 2.8V solved these problems, so we continued to push the motherboard clock speed higher.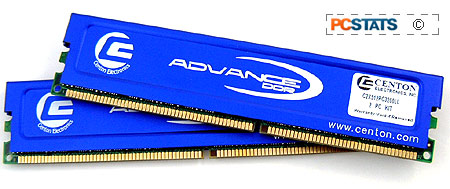 The GEMiNi memory seemed to like running with 2.8V and it easily passed the 240 MHz mark with 2-2-2-5 memory timings. Pretty impressive! To get past 242 MHz however, we had to dramatically increase voltage to 3.4V! Between 2.9-3.2V we got a big fat zero increase in speed. Enthusiasts have long known that TCCD DRAM works well with low as well as really high voltages. Anything in between 2.9-~3.2/3.3V doesn't seem to help our cause though.
Boosting the memory voltage to 3.4V allowed the Centon GEMiNi memory to hit higher speeds. In the end, the memory topped out at a very respectable 246 MHz with 2-2-2-5 memory timings. It didn't seem to like anything higher than 3.5V, as 3.8V actually lowered the maximum speed we could run it at.
Because quite a few of you have asked us how fast memory we've tested recently could go with looser timings, we also tested the max speed the Centon GEMiNi PC3200 memory would hit with 3-3-3-9 memory timings. Keeping 3.4V and starting at 246 MHz we pushed the memory up fairly quickly. The GEMiNI PC3200 memory hit a top speed of 302 MHz while keeping 3-3-3-9 timings. Very nice.

pcstats test system specs:
processor:

amd athlon64 4000+

clock speed:

12 x 200 mhz = 2.4 ghz
10 x 246 mhz = 2.46 ghz

motherboards:

dfi lanparty nf4 sli-dr (nf4-sli)

videocard:

msi rx800xt-vtd256e

memory:

2x 512mb corsair twinx3200xl pro
2x 512mb centon gemini pc3200

hard drive:
74gb western digital raptor
cdrom:
gigabyte go-w0808a dvd burner
powersupply:
seasonic supertornado 400w
software setup

windowsxp build 2600
nf4 standalone 6.53
catalyst 5.4

benchmarks

business winstone 2004
sisoft sandra 2004
pcmark04
3dmark2001se
3dmark05
x2: the threat
ut2003
ut2004
doom 3