Centon Advanced GEMiNi PC3200 Dual-Channel Kit
---
The world of OEM computer manufacturers is completely different from that of retail sales, and what works in one market often will not work in the other. For companies shopping in the OEM market, a supply of reliable OEM components at a low price is the usually key point. When it comes to major companies like Dell, HP, or Gateway, chances are they do not care about memory timings or how fast certain memory can run; what is important are compatibility and stability.
This is where a company by the name of Centon Electronics Inc. come in - and if you haven't heard of Centon, you're forgiven. The company has been in the memory business for over 25 years, but have only just started to focus effort on courting the enthusiast and mainstream computer users in the last year or so by offering an online store of products tailored to suit.
Centon is new to an arena already crowded with veteran brands like Corsair, Mushkin, TwinMOS and OCZ. If Kingston, Crucial and PDP Systems' success can be taken as any indication of what large OEMs can do in the enthusiast memory area, the 'boutique' manufacturers better take notice because another new player is in town.
Centon is actually not quite ready to roll out its enthusiast line to the public, but we've been given a first look at an overclocker-calibre dual-channel DDR memory kit. The two 512MB GEMiNI PC3200 dual-channel DIMMs we are testing in this review are rated to run at 200 MHz with 2-2-2-5 timings, at a voltage of 2.6V.

Centon Advanced GEMiNi dual-channelKit
Each memory module is wrapped in a set of blue-coloured anodized aluminum heat spreaders. Cooling DDR RAM is not usually an issue at low voltages, but as enthusiasts pump up the voltage it can begin to influence overclockability. Considering that we're going to be a little tougher on memory crossing the PCSTATS test bench from now on, the heat spreaders are a nice bonus.
During testing, the heatspreaders did a decent job at pulling heat away from the DRAM modules. With high voltages running through the memory (3.6V+), the heatspreaders did eventually get too hot to touch.
You don't care about customer service till you need it!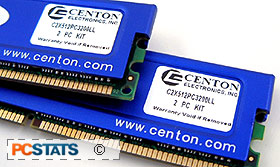 Most people do not consider customer service when buying computer components, but little do they know they're only setting themselves up for disaster. A few extra dollars spent on quality gear with quality support behind it over generic parts can save you a lot of potential headaches when parts fail.
Centon's memory products are covered by lifetime warranties, and support is available through Centon's website or via a toll free 1-800 number. We were greeted by a voicemail box when we called the number... having someone to call in a time of need is always important.
PCSTATS Test Methodology
PCSTATS tests DDR memory on AMD Athlon64 systems only because Intel is still in the middle of moving its platforms over to DDR2. Enthusiasts usually keep to the bleeding edge, so fast DDR memory is useless for the Intel overclocker looking for more juice.
On AMD test systems, we're only interested in seeing how high we can go with the memory running 1:1, as running with other dividers puts the overclocking bottleneck elsewhere, not with the system memory. The DDR RAM latency must run at 2-2-2-5, or the memory's tightest possible timings, as quick access is more important to the CPU design. Just for arguments sake, we will also be conducting overclocking tests to see how high the memory will go with conservative timings (3-3-3-9) although we will only benchmark the system with the tight memory timings. Let's get started!