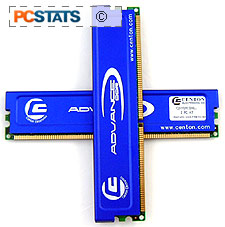 After having been in business for over 25 years and supplying memory to large OEM's like Dell and HP for 15 years, Centon is now setting its sight on the enthusiast market. Being in business for so long should give the company's potential customers a little peace of mind. You don't have to worry about sub-par standards or Centon Electronics going belly up over night!
It seems like enthusiast-calibre memory requires a catchy name. Corsair has TwinX, Kingston HyperX and Crucial Ballistix. Centon's GEMiNi is as creative as the rest... the only thing it's missing is a 'X' at the end of its name.
Instead of focusing on top speed to grabs news headlines, Centon has created a TCCD-based module with low memory timings - something enthusiasts actually know will help them overclock better.
With a stock speed of 200 MHz, the Centon C2X512PC3200LL GEMiNi DDR memory is rated to run in dual-channel operation while using 2-2-2-5 memory timings. Each PC3200 module is 512MB in size and wrapped in blue aluminum heatspreaders. During testing with high voltages, the memory did get quite hot and the heatspreaders did a great job moving heat away from the DRAM modules.
In terms of performance, the Centon GEMiNi memory scored just as well as Corsair's TwinX1024-3200XL PRO, which is some of the best stuff on the market. With 2-2-2-5 timings, Centon's low latency memory was able to hit a very respectable 246 MHz when overclocked. With looser 3-3-3-9 timings, the memory was able to do 302 MHz. Not bad for a rookie company!
With a retail price of $370 CDN ($299 US) the Centon GEMiNi memory is a little more expensive than competitive models, but it definitely performs. Centon is currently doing a massive overhaul of its website and right now you cannot buy the GEMiNi dual-channelkit directly. The individual C2X512PC3200LL DIMMs are available, and we're told that if customers order two sticks, Centon will test them for dual-channel compatibility.
With a lifetime warranty and a toll free 1-800 technical support line should you need it, Centon seems to be off to a good start. Hopefully the company can get its GEMiNi dual-channel kits out to the public soon, and move full force into enthusiast memory products!
Find out about this and many other reviews by joining the Weekly PCstats.com Newsletter today! Catch all of PCstats latest hardware reviews right here.
Related Articles
Here are a few other articles that you might enjoy as well...