They feature a finger grip on each side of the head which makes them easy to grasp when inserting or removing the plug. We've seen this same design recently on the AOpen Silent Power AO400-12AHN and we liked it then too.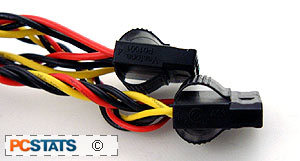 The Seasonic S12-430 ships with an extra fan control cable consisting of a Molex connector that branches off into three case fan connectors, one 12V and two 5V. This can be used to attach additional fans, with the added benefit of making the fans attached to the 5V connectors run slower. A 24 to 20-pin ATX adaptor is included for attaching the S12-430 to older motherboards.
The powersupply comes with a brief English help sheet which covered all the necessary installation details fairly clearly, as well as explaining the Active PFC and Silent Focus technologies in confusing detail.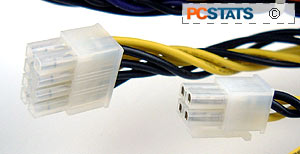 Necessary troubleshooting points, as well as the pin connections of the S12-430's various plugs are also covered.
Also included with the package is the 'DR. Cable' cable management kit, consisting of a couple of long strips of spiral cable wrap, a cable hook that can stick to the top or inside of your case, and several twist-ties. This is a nice addition to the bundle.
In use, the Seasonic S12-430 power supply made a slightly audible rushing noise under full load, but was almost dead quiet when we turned it on by bridging the motherboard power connector. This indicated that the 'silent focus' thermal fan control mechanism was working just fine. Even at maximum, you are not going to here this power supply over the rest of the components in your system.
Voltage Values and Figures
*All voltages were read from the Motherboard BIOS of a Chaintech VNF4 Ultra.
The +3.3V line was a little on the low side, but completely stable. The +12V line was also slightly low, but not near enough to cause concern. Jitter was minimal on all rails. Overall the Seasonic S12-430 has excellent power characteristics.