When looking at the Seasonic Power Supply test results we see two values, wattage and volt-amps. Since it might not be clear what they measure, here's a brief overview.
The volt-amp (VA) value is how much real power is being consumed by the power supply being tested to provide the wattage (W) value. The higher the VA value is, the more electricity is being used by the power supply. Because no electrical device is 100% efficient, there will always be some loss when converting AC to DC. The closer the volt-amps and wattage figures are to each other, the more efficient a power supply is. This is called the Power Factor: wattage / volt-amps = PF.
Since we're testing with a 120W dummy load, the load on the power supply (wattage) should be as close to this figure as possible. Anything above this load in apparent power describes the overhead and wasted energy (given off as heat) for the particular power supply being tested.
For the unloaded tests, the wattage and volt-amp figures should be as close as possible to one another. The lower the figures are, the less power is being used.
Seasonic Load Tests

Power Supply
Wattage
Test
Load
Unloaded
Seasonic SuperTornado
400 W
Active Power
177 W
6 W
Apparent Power
182 VA
7 VA
Vantec iON2

350 W

Active Power

192 W

10 W
Apparent Power
277 VA
21 VA
Ultra X-Connect Green UV 500W
500 W
Active Power
193W
22 W
Apparent Power
307 VA
40 VA
AOpen Silent Power AO400-12AHN
400W
Active Power
179W
9 W
Apparent Power
275 VA
18 VA
Seasonic S12-430
430W
Active Power
179W
6W
Apparent Power
180VA
9VA
The Seasonic S12-430 showed excellent performance on these power efficiency tests, as we've come to expect from supplies that feature Active Power Factor Correction. This model was actually the best we've yet tested under load. Looks like another excellent power supply from Seasonic.
A truly efficient power supply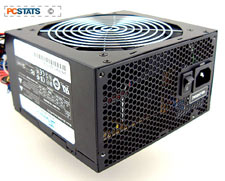 Seasonic has long touted the efficiency of their Active PFC-enabled power supplies, and we've found that the products have lived up to their claims in the past. The S12-430 430W power supply also proves to be no exception. In fact it is one of the most efficient and quiet power supplies we've yet tested.
The Seasonic S12-430 has no additional knobs, lights, colours or gimmicks to speak of. It's a plain black power supply with an adequate number of connectors and some thoughtful extras to reduce the mess that cables cause in the interior of your PC.
Electrically, the Seasonic S12-430 has excellent performance. It delivers ample power across each of its rails and overall, is the most efficient power supply we have yet tested. When compared to a generic 400 watt power supply, it should more than pay for itself in energy savings over the course of a few years, especially if you leave your PC On 24/7.
With a retail price of approximately US$99 (CAN$122) the Seasonic S12-430 is an excellent buy for any system you are putting together which will need sustained and reliable power at high wattages.
Here are a few other articles that you might enjoy as well...