Chaintech Zenith VNF4 Ultra Motherboard Review
---
There's little doubt that if you're thinking about buying a new system or parts right now, Socket 939 Athlon64 + PCI Express is the way to go. The trouble is, most manufacturers seem to be fixated with high end solutions that have everything plus the kitchen sink built-in or included in the package. This is fine and dandy for enthusiasts, but it can put the average user in a bit of a financial bind. Does an office PC really need an extra Serial ATA RAID controller and dual gigabit NICs? Probably not.
Chaintech is one of the few manufacturers to produce an entry level motherboard for the socket 939 AMD Athlon64 processor, and from what we've seen, its Zenith VNF4 Ultra has been scooping up a lot of sales. The motherboard's strongest suit is its $114 CDN ($92 US) price tag. With many other nForce4 Ultra motherboards costing 50-75% more, those of you on a budget will like what Chaintech has to offer.
Considering this PCI Express x16 motherboard goes for just over $100 CDN, you can't expect too much in terms of features. The Chaintech VNF4 Ultra still has a Gigabit NIC as well as 7.1 channel audio though, so it's not completely bargain basement stuff. Chaintech also toss in a copy of Norton Anti-Virus 2005 (90 day subscription) and a few other software utilities, which is a nice. Expansion is provided by three standard PCI slots and a pair of PCIe x1 connectors. The VNF4 Ultra supports 4 IDE and 4 SATA I/II devices for storage.

Chaintech Zenith VNF4 Ultra



Includes:

Motherboard Manual, Driver CD, Value Pack CD, Ultra/133 IDE Cable, Floppy Cable, Two Serial ATA Cables, Molex to two Serial ATA Power Cable, Thermal Paste, I/O Shield
Probably the first thing you'll notice about the Chaintech Zenith VNF4 Ultra motherboard is the relatively small size of the PCB. The VNF4 Ultra should have no problems fitting into those smaller cramped generic mid-towers that most low end systems use. The layout of this motherboard is quite user-friendly with all the main connectors located on the right-hand edge of the PCB.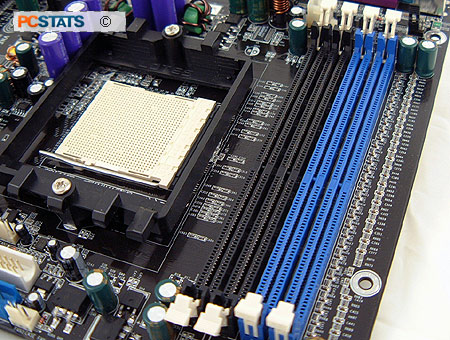 I would have liked it if Chaintech included a few USB brackets. The nForce4 chipset supports a total of 10 USB ports, but only the four on the rear I/O panel are available with the VNF4 Ultra. Of course, including the brackets would probably increase the price of the motherboard slightly.
The Zenith VNF4 Ultra actually supports a Port 80 diagnostics card, but instead of having a two-digit display on the PCB, Chaintech outputs the Port 80 results at the POST screen. This is a bit pointless in our opinion, since many times hardware problems and conflicts occur which prevent the system from even being able to display images on the monitor.
nVIDIA integrates lot of good stuff into its nForce4 chipset. Serial ATA II is an emerging technology and the NF4 already supports it. nVIDIA is still the only chipset manufacturer to build a hardware firewall into its chipsets as well.
Definitely Better!
---
A few years ago we complained about how AMD lagged behind Intel in terms of CPU care. Back then AMD processors died with the slightest problems, something that has never affected Intel processors. With the introduction of the Athlon64, AMD has drastically improved the ruggedness of its processors.

The new retention mechanism has been well thought out and designed. For instance, even when users use a heatsink that requires a lot of force, the motherboard does not warp. Bending and warping of motherboards became a serious problem with Socket 478 Pentium 4s. The clips on the retention mechanism are replaceable, so if one of the notches should break, simply get yourself a new retention mech. Socket 462 notches were notorious for being weak and breaking, when that happened, users were often forced to buy a new motherboard (as well as a new processor).

Finally thermal management within the processor has gotten much better. Now if you install a heatsink on wrong the CPU will not fry, rather the chip will throttle down.

It seems like AMD took our words to heart and the new system is definitely better!
RAID is a great feature too, and nVidia's 'nVRAID' is the only chipset RAID technology that allows one to RAID drives across different standards. For instance, if you wanted to RAID IDE and Serial ATA drives of the same size, that's possible here.