Doom 3 is the most advanced OpenGL game to date. It takes advantage of the latest videocard technology and pushes the processing power of the CPU to its absolute limits. At its highest setting, Ultra quality, texture sizes pass the 500MB mark which means even tomorrow's videocards will have a hard time running everything. The frame rates in the game itself are locked at 60 fps so anything above that point is wasted. Each test is run three times and with the third run being recorded.
Doom 3 - 1024x768-32bit
Anti-Aliasing
FPS
Ranking

MSI NX6600GT-VTD128SP 2x AA

69

MSI NX6600GT-VTD128SP QC AA

69

MSI NX6600GT-VTD128SP 4x AA

43.6

MSI NX6600GT-VTD128SP 8x AA

24
Anisotropic Filtering
FPS
Ranking

MSI NX6600GT-VTD128SP 2x AF

89.8

MSI NX6600GT-VTD128SP 4x AF

88.4

MSI NX6600GT-VTD128SP 8x AF

88.1

MSI NX6600GT-VTD128SP 16x AF

87.9
Anti-Aliasing and Anisotropic Filtering
FPS
Ranking

MSI NX6600GT-VTD128SP 2x AA, 8x AF

67.9

MSI NX6600GT-VTD128SP 4x AA, 16x AF

43
Anything more than 2x AA is too much for the MSI NX6600GT-VTD128SP in Doom 3.
Another GeForce 6600GT in the market
These days, manufacturers are bundling more value into videocards and I'm happy to see that trend gain momentum. MSI's NX6600GT-VTD128SP AGP card includes the surprise hit The Chronicles of Riddick: Escape From Butcher Bay.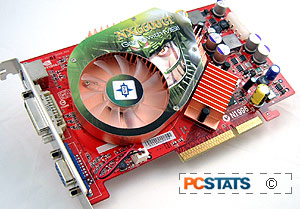 I didn't think much of the movie, but the video game is pretty darn good. I don't play first person shooters much myself, but I wouldn't mind spending a weekend or more playing this one.
In terms of performance, the MSI NX6600GT-VTD128SP ran a cut above most other 6600GT cards thanks to its faster stock memory speed. It was also a decent overclocker and performed faster than a Radeon X800 XT in some overclocked tests, which was pretty impressive. The videocard was dead silent in our test system.
If you're looking for a new AGP videocard that won't break the bank, and wouldn't mind getting a great game along with it, the NX6600GT-VTD128SP is a good bundle.
We were not able to find a price for this card, but considering it's MSI, look for that to be equally competitive.
Find out about this and many other reviews by joining the Weekly PCstats.com Newsletter today! Catch all of PCstats latest hardware reviews right here.
Related Articles
Here are a few other articles that you might enjoy as well...