Right now, the GeForce 6600GT GPU is easily one of the hottest items in the computer world. It's a mainstream GPU that doesn't have the same level of pizzazz as the Geforce 6800 Ultra or Radeon X850XT-series, but you really can't beat the value a 6600GT offers up so inexpensively. Industry and consumers have caught on, and so it is no surprise that there are hundreds of different variations of PCI Express & AGP8x 6600GT videocards floating around to choose from!
Since competition has always been a deciding factor with mainstream videocards, manufacturers are really pulling out all the stops to differentiate their 6600GT-based cards. The standards are pricing, flashy colours, lights, silent cooling set-ups, or even an occasional software package. MSI has pretty much done all of this.
The MSI NX6600GT-VTD128SP AGP 8X videocard is actually physically identical to the NX6600GT-VTD128 PCSTATS reviewed previously, the differences are found in the memory and the software bundle. MSI has used 1.6ns DDR3 memory and clocked it to 1000MHz, 100MHz faster than stock for the 6600GT. This card also comes a full version of 'The Chronicles of Riddick Escape From Butcher Bay', which is supposed to be one of the hottest 3D games out this spring. Extras comprise a couple of system utilities, CyberLink Software suite, a driver CD, a nuclear green S-Video cable & TV/Component output break out box, and a DVI to analog converter.

MSI NX6600GT-VTD128SP



Includes:

Users Manual, Quick Installation Guide, Driver CD, CyberLink Software Suite CD, System Utilities CD, The Chronicles of Riddick CDs, S-Video to S-Video cable, TV/Component Out Break out box
The NX6600GT-VTD128SP AGP 8X videocard makes use of a custom copper plated extruded-aluminum heatsink to cool the NV43 GPU and the PCI Express-to-AGP HSI bridge microchip. The fan that cools the GeForce 6600GT core is very quiet, and the small HSI bridge chip does not need active cooling.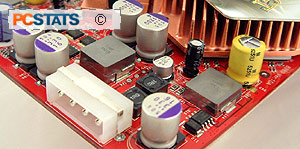 Additional Power Requirements and extras
For a long time now, the AGP slot has been unable to fully meet the power demands of high performance videocards. The NX6600GT-VTD128SP card requires an external power source through the molex power connector on the top right hand corner, so be sure to plug it in before starting up the PC.
Watching a movie on the computer is ok when you're by yourself, but it's not as fun as watching one on a large TV screen with friends and family. The NX6600GT-VTD128SP videocard can be hooked up to both a regular TV or HDTV, thanks to a VIVO cable.

MSI include a S-Video to S-Video cable but no extra component cables. I can understand the reasoning behind this, since the quality of the component cables makes a big difference in picture quality. By not including them, MSI can save users a few dollars, and let users get what they need later.