Movies and video games usually mix about as well as oil and water. We've seen some horrible movies based on video games and vice versa.... and the DOOM3 movie is still to come... Shudder. Given this trend, when I heard about The Chronicles of Riddick: Escape From Butcher Bay, I wasn't exactly about to reserve an advanced copy.
The game Chronicles of Riddick, is set before the movies Pitch Black and The Chronicles of Riddick. Here the 'anti hero' Riddick attempts to make an escape from Butcher Bay which is supposed to be the deadliest prison in the Galaxy. Riddick was released simultaneously on consoles and PC, and the menu system, though flashy, reflects this. The game is pretty heavy with graphics and we found that 800x600 was the NX6600GT-VTD128SP's sweet spot.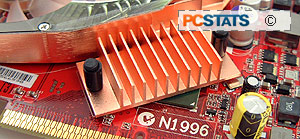 Anything higher and the card couldn't quite keep up. The textures and lighting are flat out beautiful though, and extremely reminiscent of those seen in Doom3 at maximum detail.
The game play itself is pretty impressive, mixing the currently fashionable stealth game play with some nice adrenaline pumping shootouts. Your in game character is Riddick himself, voiced by Vin Diesel, so if you can't stand him, avoid this game. Otherwise The Chronicles of Riddick: Escape From Butcher Bay is a great first person shooter and a definite cut above the typical bundled games we see these days (and by far the best movie tie-in I have ever played).
As a final note, Riddick is an 'M' rated game, and it deserves it, as swearing, and extremely graphic violence are sprinkled liberally throughout. It's almost like prime-time CNN!
Overclocking the red beast

Overclocking Results:
stock
overclocked
gpu (core) speed:
500MHz
601MHz
Memory Speed:
1000MHz
1075MHz
GeForce 6600GT videocards are already quite speedy at stock, but the MSI NX6600GT-VTD128SP should be slightly faster than the average card. Clearly marked on the box, MSI indicates that this card is using 1.6ns DDR3 memory and that its default memory clock speed is 1 GHz.

Starting with the core which is clocked at 500 MHz by default, we slowly raised the clock speed in 5 MHz intervals. The maximum core speed we could get the NX6600GT-VTD128SP to run at was 601 MHz, mighty impressive for an AGP8x 6600GT videocard.

As mentioned, the NX6600GT-VTD128SP's memory is clocked at 1 GHz by default and since it's using 1.6ns DRAM, we were hoping for quite a bit more. Going up about 10 MHz at a time, the memory seemed pretty good at overclocking as well. Ultimately, we were able to go as high as 1075 MHz.

PCStats Test System Specs:
processor:

amd athlon64 4000+

clock speed:
12 x 200 mhz = 2.4 ghz
motherboards:

gigabyte ga-k8nxp-sli (nf4-sli)
gigabyte ga-k8nsnxp-939 (nf3 ultra)

videocard:

msi rx800xt-vtd256e
gigabyte gv-rx80l256v
powercolor x700 pro
msi nx6800gt-t2d256e
albatron trinity geforce 6600gt agp
msi nx6600gt-td128
albatron trinity pc6600
albatron trinity pc6600u
asus extreme n6600top/td/128/a
gigabyte gv-3d1 (single mode)
gigabyte gv-3d1 (sli mode)
msi nx6600gt-td128e (single mode)
msi nx6600gt-td128e (sli mode)
msi nx6600gt-vtd128sp

memory:

2x 512mb mushkin pc3200 l2 v2

hard drive:
74gb wd raptor 10k rpm sata hdd
cdrom:
aopen 52x combo
powersupply:
seasonic super tornado 400w
software setup

windowsxp build 2600
nforce
catalyst 4.12
detonator 66.93

benchmarks

3dmark2001se
3dmark05
codecreatures
aquamark
aquamark3
gun metal 2
x2 the threat
ut2003
doom3

aa test, af and aa+af test
3dmark2001se
ut2003
the agp and pci-e systems use a different motherboard but results are shown for reference.