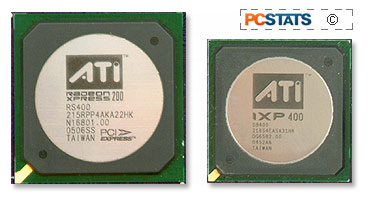 According to ATi the Radeon Xpress 200 supports both Socket 478 and Socket 775 Pentium 4/Celeron 400, 533, 800, 1066MHz processors, so at first glance it looks like ATi has built a very flexible chipset here. According to ECS though, the RS400-A motherboard is only capable of supporting 533/800 MHz processors (and obviously not 400MHz FSB as this is a LGA775 board).
The Radeon Xpress 200 chipset supports both DDR (DDR400) and DDR2 (DDR2-533) memory, but not at the same time. The chipset itself can handle a maximum of 4GB (1GB DIMMs max) of non-ECC unbuffered memory, be it DDR or DDR2. Since the ECS RS400-A has two DDR2 and two DDR DIMM slots, you can only install a maximum of 2GB of system memory.
The Radeon Xpress 200 is a PCI Express platform which supports up to 20 PCI Express lanes; 16 of which are reserved for the PCI Express x16 slot while the other four can be used with miscellaneous devices. According to the preliminary RS400 documentation that PCSTATS received (not from ATi), integrated into the RS400 Northbridge is a Radeon 9600 based videocard which will use up to 256MB of system memory. This is easily ATi's strongest suit, as the onboard Radeon 9600 class videocard should be better and more powerful than any other integrated video solution on the market. Of course since it's an integrated solution, you can't compare it to a standalone videocard. For the casual gamer, it should be good enough.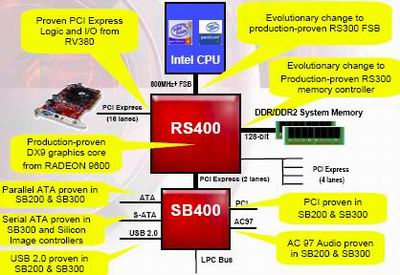 Considering how new the IXP 400 'SB400' Southbridge is, its hardware specs seem a bit outdated. The SB400 only supports Serial ATA (not SATA II), and just eight USB 2.0 ports. Audio comes care of the inexpensive AC'97 codec. One has to really where the real features are? Where is the RAID, Gigabit networking, or even a HD (High Definition) audio codec? These are pretty much standard integrated features in most modern Intel-based motherboards.
What the heck is AC'97?
---
AC'97 was developed by Intel and stands for Audio Codec '97 (1997) but has been adopted by pretty much every chipset manufacturer. AC'97 refers to two components the AC'97 digital controller which is built into Southbridge chipset's and the AC'97 analog codec elsewhere on the PCB.

AC'97 audio supports 96 kHz playback in 20 bit resolution and 48 kHz in 20 bit stereo multichannel recording and playback. Compared to actual sound cards the playback frequency and resolution is considered low with the average hardware sound card supporting 192/24. Audio quality is probably the biggest complain from AC'97 users.

Intel has recently released its new High Definition Azalia audio codec which is to replace the AC'97 standard. The new Azalia codec addresses many issues with the older standard such as low sampling rates and adds DVD class audio (Dolby Digital, Digital EX, etc) to the equation. While Azalia costs more than AC'97, we do expect more motherboard manufacturers to adopt the higher quality Azalia in the near future.
ATi has configured its RS400 chipset such that it connects to the SB400 via a PCI Express x2 lane which is upgradeable to x4 if necessary. Unfortunately it is not user upgradeable. The connection is thus rated for 500MB/s bandwidth. Intel based products all use much higher speed connections. I guess the Radeon Xpress 200's saving grace is that it's inexpensive, and aimed at the entry level market...
PCSTATS tried to dig a little deeper into the Xpress 200 chipset, but ATi was not very forthcoming. What the company does provide on its website is extremely vague. It makes us wonder if ATi is taking the motherboard chipset industry very seriously, or perhaps is hiding something back from the consumer that would provide its competition with a leg up? In any case, requests to ATi for general information on the Radeon Xpress 200 went unanswered.
AGP Express Anyone?
As you've probably noticed, the ECS RS400-A motherboard comes with both a PCI Express x16 and 8x AGP express slot for videocards. As its name hints, the AGP express slot actually runs through the PCI Express bus! The RS400-A is not the first motherboard we've seen with both PCI Express and AGP slot, but most others force the AGP videocard to turn through the extremely tight PCI bus. In this case, it's possible for the AGP videocard to function almost at normal speeds since PCI Express offers a lot more bandwidth than the PCI bus can.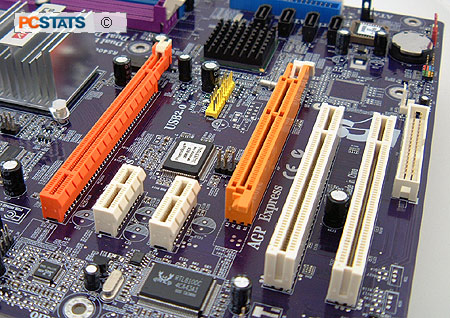 Unfortunately we experienced quite a few problems getting an Asus Radeon X800 XT PE videocard to work, and instead had to switch over to a MSI RX800XT-VTD256 videocard which has been validated for the platform by ECS.