After testing a few ATi based motherboards from the same Xpress family, we have found that most do not overclock very well. Expectations were thus muted for the ECS RS400-A motherboard in this regard. Starting at 200 MHz I began to increase the FSB of the motherboard slowly... and surprisingly the ECS RS400-A didn't crash immediately. Ultimately, we were able to push this entry level motherboard up as far as 242 MHz, which is a definite improvement over previous boards based on the ATI Xpress chipset family.
The RS400-A BIOS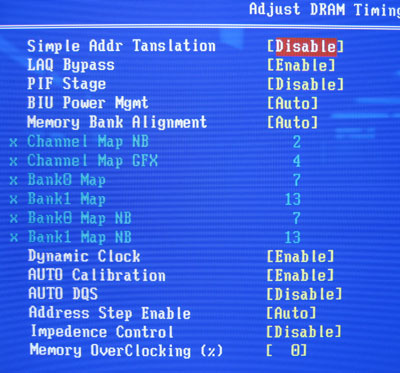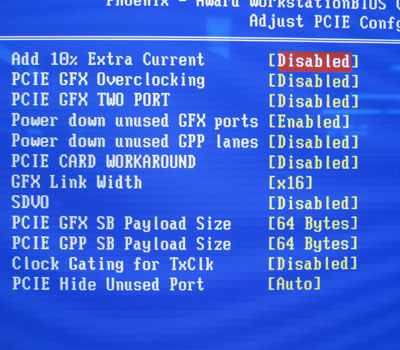 While the ECS RS400-A uses a standard Award BIOS, the options that are available on the board are quite different from what we're use to seeing. I was not sure how to configure the memory timings so I just left everything at default during testing; there are a lot of PCI Express tweaks for those interested.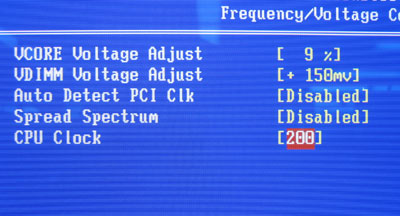 There are not many voltage options with the RS400-A. Maximum CPU voltage goes as high as 9% based on the processor you're using. You can increase memory voltage 0.15V and adjust the FSB from 200-510 MHz in 1 MHz increments.

PCStats Test System Specs:
processor:

intel pentium 4 3.2e
amd athlon64 4000+

clock speed:

16 x 200 mhz = 3.2 ghz
12 x 200 mhz = 2.4 ghz

motherboards:

albatron px925xe pro-r (925xe)*
gigabyte ga-8anxp-d (925x)*
msi 915p neo2 platinum (915p)*
dfi lanparty 875p-t (i875p)**
asrock 775v88 (pt880)**
gigabyte ga-8n-sli royal (nf4-sli intel)*
ecs rs400-a (rs400)*

videocard:

msi rx800xt-vtd256*
asus ax800xt/tvd **

memory:

2x 512mb crucial ballistix ddr2-533
2x 512mb corsair twinx1024-3200xl

hard drive:

40gb western digital special ed
74gb western digital raptor sata hdd

cdrom:
aopen 52x combo
powersupply:
seasonic super tornado 400w
software setup

windowsxp build 2600
intel inf 6.10.1012
nforce 6.53
forceware 71.84
catalyst 5.3

workstation benchmarks

sysmark 2004
business winstone 2004
content creation 2004
winbench 99
sisoft sandra 2004
super pi
pcmark04
3dmark2001se
3dmark05
comanche 4
x2: the threat
ut2003
ut2004
doom 3