ATi's entry into the motherboard chipset market has been well... muted to say the least. With its videocards, we're use to experiencing a lot of hype and excitement in the days and months leading up to a product launch, but with ATi's motherboard chipsets, there has been almost literally nothing.
I guess it's easier to keep things mum when a company is not sure if its new product will succeed in the market, rather than making a big fuss and drawing attention to itself. Yet, this approach that ATI is taking definitely does not show confidence in its motherboard chipsets. It's a shame too, ATi's previous iterations Pentium 4 chipsets have been decent - even good when compared to other System Integrator (SI) class solutions. Sure the ATI RS300 and RS350 chipsets lacked in the performance department, but neither was really given much time to mature.
Perhaps ATi has grown accustomed to its dominance in the 3D videocard market, leading it to expect immediate, and overwhelmingly positive results in the realm of core logic chipsets too? It's hard to say for certain as this secretive company discloses scant little about itself.
In any event, PCSTATS always looks forward to the opportunity to test out new technologies, or even motherboards based around uncommon chipsets like the anonymous ATI 'RS400' Radeon Xpress 200. In this review we'll be testing out the ECS RS400-A motherboard, which supports 800MHz FSB LGA775 Intel Pentium 4 processors and offers up PCI Express functionality.

ECS RS400-A





Includes:

Users manual, Driver CD, Ultra/133 IDE cable, Floppy cable, Serial ATA cable, Molex
Actually, the ECS RS400-A motherboard supports LGA775 Pentium 4 and Celeron processors running on either the 800MHz or 533MHz FSB, but what really makes this motherboard unique is that it has both a PCI Express x16 and physical 8xAGP slot. Other onboard goodies consist of a 10/100 network card, onboard graphics care of the Radeon Xpress 200 chipset, support for either DDR or DDR-2 memory, and 7.1 channel audio through the 'SB400' IXP400 southbridge.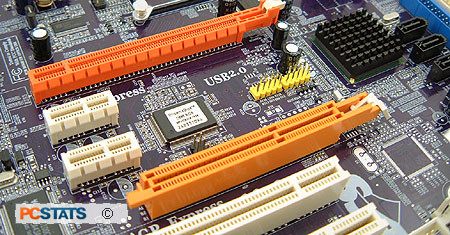 All of this comes together to make the ECS RS400-A motherboard one very flexible purple solution capable of bridging the gap between old and new technologies. If you have been wanting to jump into a Socket 775 processor, this might be your opportunity to do so without much cost...
The general layout of components and connectors on the RS400-A is logical, although I prefer not to have the floppy drive connector at the bottom of the board. I liked how ECS has a main ATX power supply retention notch for both 24 pin and 20 pin power supplies. Pulling the power supply cable out of this motherboard will be difficult.
Despite a large heatsink on the ATI RS400 Northbridge and small one on the SB400 Southbridge, the ATi chipsets actually do not produce much heat. It's a pleasant change compared to Intel and nVIDIA offerings which can be like little infernos.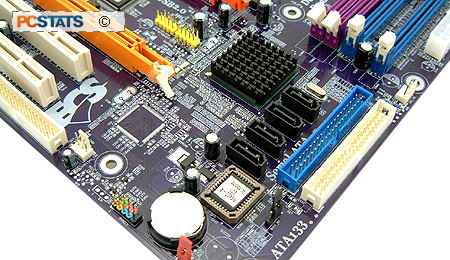 The IXP 400 southbridge supports first generation Serial ATA devices, though it is nice to see the locking-style serial ATA headers are used. These ones are a lot more secure, and the cables will not pop out at the slightest touch... as long as you can find them. ECS includes just one SATA cable with this board.
Aside from the floppy drive connector placement, the only other minor thing that bothered me was the PCI Express x16 retention lock.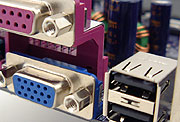 The one that is found on the RS400-A is extremely difficult to access when a videocard is installed. If you can get your fingers down there, unlocking the videocard is a frustrating task. I found it easier to pull the videocard out from the front, rather than to unlock and remove the videocard regularly. The 8XAGP slot had a regular style lock.
ATi is well known for its excellent 2D image quality, but I was surprised to see rather less than that coming from the integrated videocard on the RS400-A. On a 19" LG Flatron 995FT Plus CRT monitor used for testing, text and fine lines overall were somewhat blurry and difficult to read. Installing a standalone videocard improved things dramatically, so if you're working mainly with 2D applications it's worth while to use a real videocard here.