There's little doubt that if you're thinking about buying a new system or upgrading, an AMD Athlon64 is currently the way to go. Pentium 4 systems can be had with the same features, but with the Athlon64 processor you generally get more for your money in our opinion.
Much of AMD's success would not be possible if it were not for nVIDIA and its excellent chipsets. Aside from the original nForce, nVIDIA has not experienced much in terms of compatibility or delivery issues and every chipset has performed well.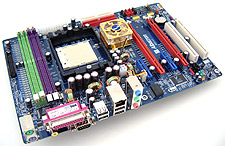 There are many nForce4 SLI motherboards on the market and most share one similar trait... they are huge. This is what makes the Albatron K8SLI so refreshing, since you get all the NF4-SLI goodness in a smaller package. The Albatron K8SLI is a rather lean motherboard and only comes with a Gigabit NIC and 5.1 audio other than what is included with the nForce 4 chipset. If you need to upgrade there are a decent number of expansion slots, so all we need are more PCI Express x1 devices on the market.
Albatron did a good job with the layout of this motherboard and it's quite user friendly. The board retails for about $160USD ($200CDN) and the manual is also well written and will no doubt help users should they have problems with RAID or SLI. We would have liked to see the K8SLI come with a few more extras since it only ships with a single SATA cable.
The Albatron K8SLI did very well in all the benchmarks we threw at it. It would be impossible to tell the difference between this board and a higher end model like the MSI K8N Neo4 Platinum/SLI or the DFI LANParty NF4 SLI-DR. The K8SLI seemed to be up to the overclocking game as well and hit a very respectable 283 MHz. If you want a small but powerful machine, the Albatron K8SLI is exactly what the doctor ordered!
Find out about this and many other reviews by joining the Weekly PCstats.com Newsletter today! Catch all of PCstats latest hardware reviews right here.
Related Articles
Here are a few other articles that you might enjoy as well...