With Albatron putting FSB1000+ MHz on the front of the motherboard box, the K8SLI motherboard is practically begging to be overclocked. Before we got to the overclocking though, we first set the CPU multiplier to 6x and lowered the memory multiplier to run at 133 MHz mode. You're right if you think that this lowers overall system performance, but we're only interested in testing how high the motherboard will go, not aiming for benchmark records.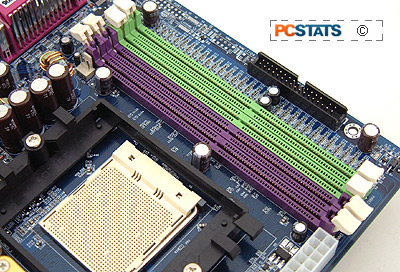 Starting at 200 MHz, we increased the motherboard clock speed 10 MHz at a time. At 230 MHz the motherboard showed some signs of instability and would give a blue screen about 50% of the time while loading WindowsXP. Increasing the chipset voltage to 1.7V seemed to stabilize things and we could now run through a whole host of benchmarks without problems.
At 240 MHz the motherboard refused to POST and Albatron's Watch Dog Timer kicked in and reset the BIOS options to default. Lowering the HyperTransport multiplier to 4x solved this and we continued overclocking. Internal testing has shown that HTT frequency does not affect overall system performance very much anyhow.
In the end, the Albatron K8SLI hit a maximum speed of 283 MHz. Not bad at all, but not too surprising since Albatron has always been pretty good at the overclocking game.
The Albatron K8SLI BIOS: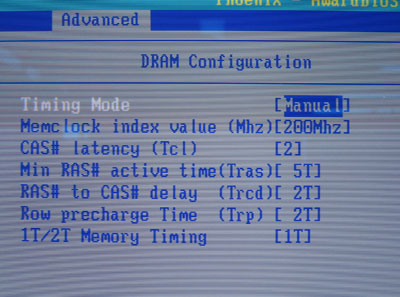 Albatron uses a Phoenix BIOS, so it might look a bit different than you're used to. Still it has all the usual memory timing adjustments we'd expect, like CAS Latency, RAS to CAS and Row Precharge time. You can also adjust the memory divider here if you plan to overclock.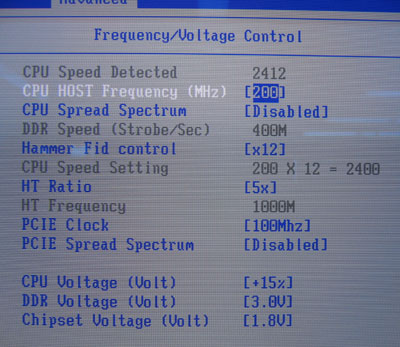 In the Frequency/Voltage Control section, we find the motherboard's overclocking/voltage adjustments. You can tune the motherboard clock speed from 200-450 MHz in 1 MHz increments and also adjust the CPU clock multiplier depending on the processor you're using. HTT is adjustable as well as the PCI Express bus but that's best left alone. CPU voltage goes as high as 1.65V, memory 3V, and the chipset to 1.8V.

PCStats Test System Specs:
processor:

amd athlon64 4000+

clock speed:

12 x 200 mhz = 2.4 ghz

motherboards:

asrock k8 combo-z/asr (ali m1689)*
soltek sl-k8tpro-939 (k8t800 pro)*
epox 9nda3+ (nf3 ultra)*
albatron k8x890 pro ii (k8t890)**
gigabyte ga-k8nxp-9 (nf4 ultra)**
epox ep-9npa+ ultra (nf4 ultra)**
gigabyte ga-k8nxp-sli (nf4 sli)**
msi k8n neo4 platinum/sli (nf4 sli)**
dfi lanparty nf4 sli-dr (nf4 sli)**
msi k8n neo4 platinum (nf4 ultra)**
albatron k8sli (nf4-sli)**

videocard:

asus x800xt/vtd*
msi rx800xt-vtd256**

memory:

2x 512mb mushkin pc3200 special ed.

hard drive:
40gb western digital special ed
74gb western digital raptor sata
cdrom:
aopen combo 52x
powersupply:
seasonic super tornado 400w
software setup

windowsxp build 2600
via 4in1 4.55v
forceware 6.10
catalyst 4.12

workstation benchmarks

sysmark 2004
business winstone 2004
content creation 2004
super pi
sisoft sandra 2004
pcmark04
3dmark2001se
3dmark05
aquamark3
comanche 4
x2: the threat
ut2003
ut2004
doom 3
pcstats has upgraded its test platform with a couple of 74gb western digital WD740 Raptor hard drives, replacing the trusty 40GB WD IDE HDDs as test drives. Please keep that in mind when viewing the office and disk benchmarks.