A few weeks ago, I turned on my test computer without the CPU heatsink fan plugged in. Without proper cooling the Athlon64 3500+ processor, which was clocked at 3.11 GHz, actually ran for about two minutes (continually crashing) while booting WindowsXP. When I realized the boot problem was because of a temperature was reading around 85 degrees Celsius, I immediately shut off the computer! If I had done the same thing to an AthlonXP processor a year or so ago, the processor would have been toasted in seconds. Yet with Athlon64 processors, AMD's clock throttling kicks in to save the day, so the chip was no worse for the experience.
The AMD Athlon64 is certainly the 'hot' processor for desktop computers, and with good reason. Initially, motherboard manufacturers were reluctant to release 64-bit Socket 754/940 Athlon64/FX boards when the platform first emerged, but now things are completely different for the Socket 939 Athlon64 CPU. You can find Socket 939 Athlon64 motherboards from every major vendor and in many cases, several models based on the same chipset.
The Albatron K8SLI motherboard being tested over the following pages is a compact nVidia nForce4 SLI board that packs in quite a bit into a small space. The Albatron K8SLI comes with a basic set of features, such as Gigabit network ethernet, 5.1 channel audio controller (with SPDIF out), two free 32 bit PCI slots as well two PCI Express x1 & PCI Express x16 slots, and the standard assortment of SATA and IDE connectors supported by the nForce 4 SLI chipset.

Albatron K8SLI Motherboard



Includes:

Motherboard Manual, Driver CD, Quick Install Guide, two Ultra/133 IDE cables, Floppy Cable, Serial ATA cable, Molex to Serial ATA power cable, SLI Bridge, I/O Shield
The first thing that stands out about this board is the compact size of the PCB. The K8SLI will have no problem fitting into cramped mid-tower cases, and it brings with it SLI capability! Component layout is quite good, and we were pleased to find no headers placed between the expansion slots.
But wait, isn't something missing... where's the SLI switch? Don't let the absence of a SLI switch module or SLI jumpers fool you, the Albatron K8SLI is fully SLI compatible, and the switch is done digitally. The motherboard automatically detects when SLI compatible videocards are present and splits the PCI Express x16 bus evenly between the two slots. This makes things much easier and I wish more manufacturers would implement a similar system. During testing the switchless system worked flawlessly.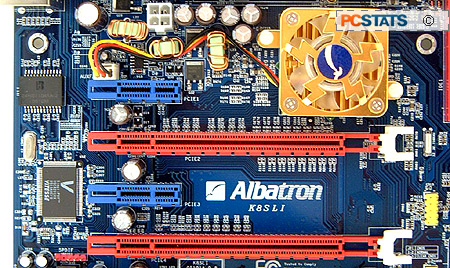 With Athlon64 systems drawing more power than ever before, it's nice to see that manufacturers as a whole are using higher quality Japanese capacitors. The capacitors found on the K8SLI are all 100% Japanese made.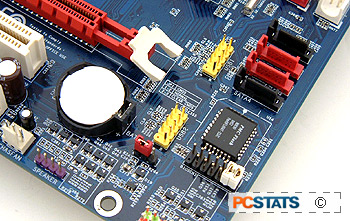 On the documentation and manual front, the board comes well accompanied. If you're a new to computers and do not know how to setup RAID or SLI, don't worry because this manual can help in that regard.
Let's face it, killing a motherboard with a bad BIOS/flash is very rare, but it happens there isn't any other option but to RMA the entire motherboard back to the manufacturer.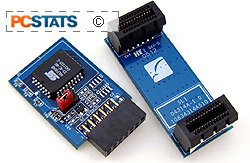 Albatron does its part to keep its end users up and operational with the ABS (Albatron BIOS Security) module. In principle it works very much like the dual BIOS feature on most other motherboards but with this one, the chance of having the backup BIOS erased is slim to nil.

Should something corrupt the primary BIOS, simply plug the ABS module into its header, set its jumper to recover and viola you're set! Just make sure you know where you put the ABS module since it's not built into the motherboard. Dual BIOSes is a very handy feature and motherboard manufacturers make this standard equipment on motherboards. If you are shopping around, we highly recommend buying a motherboard with dual BIOS'.

IEEE 1394a/b - The Connectivity Alternative
---
In the past we've touched based on USB but what about IEEE 1394a/b, the Apple standard? IEEE 1394 (aka Firewire) was proposed in 1987 by Apple and was codified by IEEE in 1995. While it was then superior to anything else on the market, IEEE 1394 did poorly because Apple imposed some high royalty fees which turned off manufacturers. Intel was originally on the IEEE 1394 bandwagon but left in favor of developing USB 2.0. These days Apple doesn't charge much of a royalty and thus the IEEE 1394a/b standards have started to bloom.

IEEE 1394 was designed right from the beginning to handle high bandwidth audio/video transfers. IEEE 1394 is hot pluggable and thanks to its peer to peer protocol, allows users to connect up to 63 devices. While USB 2.0 allows for connecting up to 127 devices in a daisy chain, it bogs down computers easily with high loads since the PC must control each individual device.

Besides the obvious bandwidth advantages, IEEE 1394 can also deliver up to 15 watts of power which is enough to power external HDDs and DVD writers, eliminating the need for external power with many such devices. While IEEE 1394 is superior in terms of technology, USB has been in the forefront for many years, so the battle for external connectivity may rage on for quite some time.
As for complaints, it would have been nice if Albatron included a few more extras with the motherboard, including just one Serial ATA cable and one molex to Serial ATA power adapter seems a bit stingy. Also a USB header bracket would have been nice considering the number of USB peripherals used by an average user.