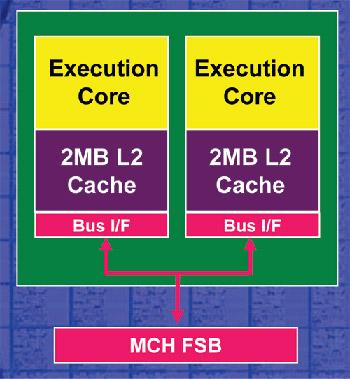 Since Intel did not have a nice pre-existing resource space in which to add a second processor core like AMD did, it has been forced to improvise.
The Pentium D essentially takes two identical P4 'Prescott' processor dies and sticks 'em together. This has the marked advantage of providing each processor with its own L1 and L2 cache memory.
Unfortunately, Intel's approach also has the marked disadvantage of forcing both processors to communicate through the Northbridge and FSB outside the processor, while AMD's dual-core approach allows the twin cores to exchange information within the processor itself.
Transistor counts for the new chips hit a high of 230million, and the heat output is a hefty 130W for the Pentium Extreme Edition 840 and the fastest Pentium D processors.
Alas, unlike AMD's almost Santa Claus-like decision to keep to the existing Socket 939 platform for the dual-core CPUs, Intel's dual-core solution requires a new pair of supporting chipsets, the Intel 955X and 945P. nVidia's recently released nForce 4 SLI Intel Edition will also support dual-core processors, but this must be added by the manufacturers so early adopters are likely out of luck. What it adds up to is that you are going to have to buy a new motherboard if you want to take advantage of Intel's approach to dual-core processors.
Heat and Bandwidth: Enemies of Dual-Core Processors?
While everything we've looked at so far has been positive, let's take a look at some issues that may affect the performance of dual-core Athlons and Pentium 4s relative to their single core siblings. Given that everything inside the AMD processor is already adapted for dual-core as we pointed out above, there are surprisingly few possible pitfalls, but we're going to look at a couple. Intel's road isn't quite so straightforward.
Heat is one obvious worry. Single core Athlon 64 processors can crank up a fair bit by themselves, as witnessed by the enormous retail heatsinks they ship with. The same goes for the latest Pentium 4 chips. What's going to happen when you combine two cores capable of giving off that much heat in such a small space? Are we going to need mandatory water cooling?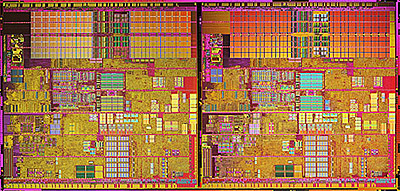 Apparently not, as AMD defines almost the same thermal envelope for their dual-core processors as for the single core versions. The Intel Dual-core chips give off more heat, but not drastically so.
How is this possible? Well there are a few factors to consider: First of all, don't forget that both the AMD and Intel dual-core chips are being produced on the 90nm fabrication process, like the newest single core chips. As always, smaller fab size = less power = relatively less heat.
The second factor to consider when trying to figure out why dual-core processors are not thermal bombs is the slightly slower speed of the planned processors as compared to their single core equivalent. While not a huge difference, 400MHz or so less does make them a little cooler.
Finally, there's the fact that at least one core is going to be running at less than full capacity most of the time.
Bandwidth is a more troubling concern. It's not an enemy of the dual-core processors per se, but more of a limiting factor. Intel has to contend with using a conventional FSB/Northbridge setup to allow it's dual-core processor to communicate with itself, and even with support for DDR2-667 in the new 955X chipset, this may bog things down. It just doesn't feel like an efficient way to do things.
On the other hand, the AMD dual-core offerings' internal communications abilities are doubtless more efficient, but in some ways unproven. We already know how dual-CPUs talk to each other over a conventional FSB, but AMD's method of in-chip communication has yet to be really tested. Also the 6.4GBps memory bandwidth of the dual-core Athlons is exactly the same as that of their single core bretheren.
One major concern when dual-core processors were first announced was how they would work with operating systems like Windows XP Home, which is limited to one physical processor. Apparently though, Home users do not need to fret, as both AMD and Intel's dual-core chips should work just fine. The operating system will see a single physical chip with two logical cores just as it currently does with Hyperthreading capable Pentium 4 processors. No word on how the Pentium Extreme Edition 840 with it's dual cores AND hyperthreading will work though...