The past 16 months or so have seen an unprecedented number of genuine breakthroughs in the field of processor design, especially from AMD. Not only did that company introduce a truly compatible 64-bit processor design which has since dominated the high-end desktop PC market, but it also pioneered the on-die memory controller which has given the Athlon 64 and Opteron chips a leg-up in performance over Intel's offerings. Intel has since adopted 64-bit compatibility also, and now both companies are releasing processors with another brand new feature, dual-cores.
Dual-core processors work pretty much as you'd expect them to. At their most basic, both Intel and AMD have taken two mostly (or in the case of Intel, fully) functional processor cores and joined them together in a single processor die. Each core functions and processes data independently, and the two are co-coordinated by the operating system software.
In this article, PCSTATS is going to focus on both company's versions of this technology, how it works, and the kind of performance boost you can expect from it. Currently only certain of AMD's Opteron server-class processors are available with dual cores, but very shortly AMD will release the Athlon 64 X2 line of dual-core desktop processors. Intel has taken the opposite approach, already releasing the 'Pentium Extreme Edition 840' desktop dual-core chip, while its 'Pentium D' and dual-Xeons lines are not far behind.
Since dual-core processors are essentially a multi-processor system in a convenient package, let's start by looking at some of the multi-processor technologies which have contributed to AMD and Intel's newest products.
SMP (Symmetric Multi-Processing)
SMP is the most common approach to creating a multi-processor system, in which two or more separate processors work together on the same motherboard. The processors co-ordinate and share information through the system bus, and the processors arbitrate the workload amongst themselves with the help of the motherboard chipset and the operating system.
The OS treats both processors more or less equally, assigning work as needed. Both AMD and Intel's new dual-core chips can be considered SMP capable (internally). AMD's dual-core Opteron server processors can be linked to other dual-core chips externally also, but this capability is not present in either company's desktop dual-core lines.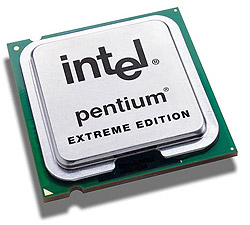 The major limitations of SMP have to do with software and operating system support. Many operating systems (such as Windows XP Home) are not SMP capable and will not make use of the second physical processor. Also, most modern programs are single-threaded, meaning that there is only ever one current set of linked instructions and data for them. This means that only one processor can effectively work on them at a time. Multi-threaded programs do exist, and can take better advantage of the potential power of dual- or multi-CPU configurations, but are not as common as we might like.
No other current mainstream desktop processors are SMP capable, as Intel and AMD tend to restrict cutting edge technologies to the higher-end server processors such as the Opteron and Xeon. In the past though, mainstream processors have been SMP capable, most notably the later Intel Pentium 3 processors.