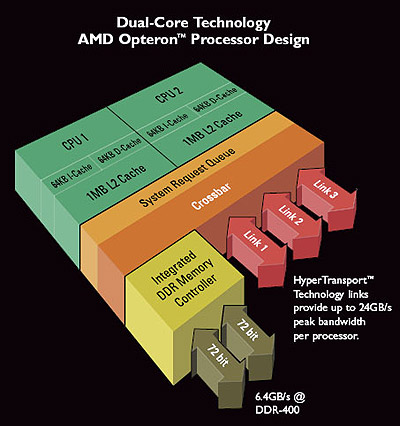 AMD's Opteron chip is capable of SMP due to its multiple hypertransport links, so which is faster; a single dual-core chip or two single-core chips? On paper, dual Opterons should be faster than a single dual-core Opteron at equivalent clock speed for one major reason: Due to the built-in memory controller, each Opteron has exclusive access to its own set of system memory.
The dual-core designs have to share the memory controller, leading to competition for resources that will inevitably drag down comparative performance.
Intel SMP systems do not gain this advantage over dual-core siblings since they already share a single memory controller over the front-side bus of the motherboard. It's difficult to tell whether either design has any performance advantage in Intel's implementation.
The data has a shorter path to travel with the dual-core chips, but not so much as to make a radical difference. Certainly Intel dual-core chips should have a pricing advantage over SMP solutions, especially when you factor in the price premium that dual-socket motherboards demand.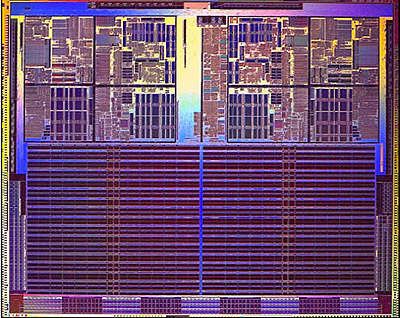 It's time to talk money. At first glance, basic economics suggests that dual-core processors should be more affordable than buying a pair of single core processors. After all, the companies are integrating two cores into a single die, saving manufacturing effort.
Besides, there would be no point in charging extra money for the second core of a dual-core chip; no one would buy it, right? Maybe, but let's not forget what dual-core chips have to offer besides convenience. The picture is quite different for Intel as opposed to AMD, so let's run through each company's pricing strategies for these chips.
AMD's Dual Core Lineup
As we mentioned, AMD's dual-core desktop processor is going to be known as 'Athlon 64 X2'. These CPUs will be available shortly at initial speeds of 2.2GHz, with only one other speed, 2.4GHz currently expected for release. Besides speed, L2 cache memory will differentiate the various versions of the processor, with some models having 512KB and some having a full 1MB cache. Let's look at the names and the feature breakdown. As you can see, the initial offering will be broken down into 'Toledo' core chips with 1MB of L2 memory per core and 'Manchester' core chips with 512KB.
Athlon 64 X2 4800+: (Toledo Core) 2.4GHz, 1MB l2 cache memory $1001
Athlon 64 X2 4600+: (Manchester core) 2.4GHz, 512KB l2 cache memory $803
Athlon 64 X2 4400+: (Toledo core) 2.2GHz, 1MB l2 cache memory $581
Athlon 64 X2 4200+: (Manchester core) 2.2GHz, 512KB l2 cache memory $537
As you can see, AMD's introductory dual-core prices are roughly twice that of its single-core chips, especially at the lower end. This seems reasonable, except for one thing; Intel has no such price doubling plans.