It's also important to keep an eye on the amount of heat the processor is putting out because of the 'thermal throttling' safety systems built into both AMD Athlon 64 and Intel Pentium 4 processors. If either of these CPUs gets too hot, they will slow themselves down drastically in order to keep from burning out. Users will notice this in terms of massively reduced system and benchmark speed, which should clue them into the fact that additional cooling is needed if they wish to continue overclocking. Thermal throttling should never occur in the regular use of a processor, but overclocking is NOT regular use. ;-)
To monitor the processor's temperature, look for the 'system health settings' or similar entry in the BIOS screen.
Though some CPUs run hotter than others (Pentium processors tend to displace slightly more heat than their AMD siblings), all modern processors are happiest in the area between 35°C -65°C. If the processor is showing temperatures over 70°C in the BIOS, chances are that heat is going to be a limiting factor in the computer's stability and overclocking potential. Time to consider a new heatsink and/or better case ventilation.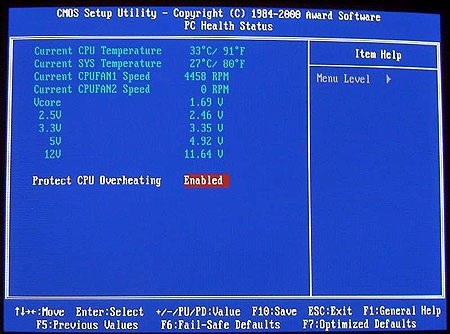 Power Supply Requirements
Overclocking a computer system also increases the amount of power it draws, and this may lead to system instability if its old 300Watt power supply is not up to the task. If overclocking a modern Pentium 4 or Athlon 64 system, plan on upgrading the power supply to at least 400Watts.
Spontaneous reboots while under load are usually a sign of insufficient power. When that happens, it's definitely time to pick up a new power supply. On that note, while flashy powersupplies full of lights may be good to look at, they do not always indicate the best power quality, or power efficiency. In our experience, powersupplies which support PFC or Active PFC are the best choices.