Though it's less common with modern hardware, it's quite possible that during this overclocking adventure the computer system may be (over)driven to a point where it simply refuses to even POST, never mind boot into Windows. If this happens, don't panic.
To restore a system in this condition, power down the computer, unplug it and restore the BIOS to its default settings. This can be accomplished in one of two ways:
Set the BIOS (CMOS) reset jumper on the motherboard into the reset configuration and leave for 20 seconds (consult your manual for its location), then reset the jumper to the default position and power the system on again. The BIOS should now be reset to its default settings.
Or - Remove the CMOS battery (the flat silver disk) from the motherboard using a pencil or similar implement. Leave it out for a minute or two, then replace it and power on the system. The BIOS settings should have been reset, allowing the computer to boot.
Or - While turning on the PC, hold down the Insert key until the POST screen is displayed, enter into the BIOS and select default settings, save and reboot.
Memory Performance (latency vs. speed)
Memory latency is another important consideration when overclocking a computer system. The latency settings of the memory determine how long it waits for certain states to clear before performing new read or write actions. The lower the latency, the faster the memory will perform. Lower latency settings put more stress on the memory and increase the chance of error though, so many lower-end memory modules cannot handle fast latency settings, especially when overclocked. Raising the memory's latency settings may enable a higher overclock to be achieved at the cost of some performance.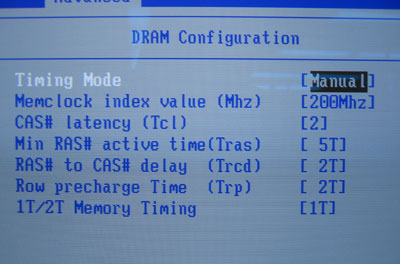 Memory latency settings can generally be found in the 'advanced chipset features' section of the BIOS.
For a full explanation of memory latency and how it relates to overclocking, see PCSTATS' insightful article on the subject here.
Extreme Overclocking
If you've enjoyed working through this article and overclocking your computer system, don't stop here. There's a whole world of 'hobbyist' level overclocking tools and instructions out there. Take the Prometia Mach II GT cooler PCSTATS reviewed recently for example... This device is essentially a refrigerator attached to the processor! There are also many water-cooling devices available, and some enterprising enthusiasts have even been known to use liquid nitrogen to cool their CPU!
On a more reasonable level, try this guide's sister article on overclocking videocards for an equally easy and free way to boost a computer system's gaming performance.
If you have any comments or questions, please post them in the PCSTATS Forums or drop us a line at the Feeback page. . Find out about this and many other reviews by joining the Weekly PCstats.com Newsletter today! Catch all of PCSTATS latest hardware reviews right here.